After a year of negotiations, the European Union and European Parliament have come to an agreement on taxing imports according to the emissions created to produce them. In doing so, they raise the table stakes on global trade by applying the first climate regulations worldwide, reported .
The legislation is expected to be passed in the coming weeks as part of the expansive initiatives aimed at tackling global warming more aggressively in the bloc, and would begin going into effect in October 2023. The carbon border adjustment mechanism would be the first carbon tax to be applied to imports and is already causing large waves in developing and developed countries, as well as inspiring other countries like the U.K. and Canada to consider something similar.
"With this directive, the polluter is really going to pay, and we are pushing the rest of the world to do the same," said Mohammed Chahim, a leader of the talks in the European Parliament and a European lawmaker.
In the U.S., there are concerns that the new tax will create a whole new layer of red tape for exports, and developing countries are raising alarm bells as they often carry the brunt of the emissions burden for the developed world.
The carbon border tax is being created as an attempt to safeguard European industry from competitors in unregulated countries and regions, as well as a means to encourage countries without regulations to create their own prices on carbon, whether through cap-and-trade allowances systems or taxation. Manufacturers that export goods to Europe from countries with an existing carbon emissions system in place would be able to deduct their carbon costs from the tax when the goods are imported into Europe.
It's an all-encompassing taxation mechanism that includes indirect emissions used in creating goods, which means emissions from second-hand sources such as from the electricity used in manufacturing. It could mean that countries such as China, which are heavily reliant on coal as an energy source, could face significant challenges and costs for importing to Europe. Costs will be assessed using the current price per ton of carbon in Europe's emissions system, prices that have been gaining ground this year and are currently around €90 ($95 USD).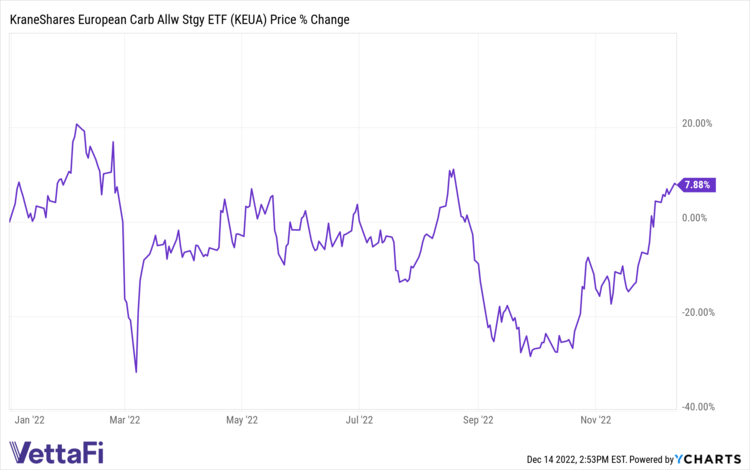 The  offers targeted exposure to the EU carbon allowances market and is actively managed.
The fund's benchmark is the IHS Markit Carbon EUA Index, an index that tracks the most-traded EUA futures contracts, a market that is the oldest and most liquid for carbon allowances. The market currently offers coverage for roughly 40% of all emissions from the EU, including 27 member states and Norway, Iceland, and Liechtenstein. KEUA has an expense ratio of 0.78%.
For more news, information, and analysis, visit the .
---
Content continues below advertisement