Last week on March 23, (F) announced changes to its financial reporting and separated its electric vehicle business into its own segment (Ford's teach-in materials can be found on its website here). While the filings indicate that Ford's EV segment is largely unprofitable — something that many investors and analysts already knew was a widespread issue across the space — these filings provide transparency and a closer view into what steps need to occur operationally to make EV manufacturers into profitable companies. This note takes a brief look at Ford's data, examines EVs from a thematic ETF perspective, and looks deeper into profitability issues from an ex sell-side analyst perspective. 
EVs From a Thematic Perspective: Higher Sales and Demand Are a Good Thing 
Before returning to the ETF research world in 2021, I spent several years in transportation research, including electric and future vehicles. Building out models with several years of forecasts with basically no sales data was not easy. At the time, many of the pure-play EV stocks were still in their early stages, and deliveries (which also means revenues) were significantly delayed due to not only standard operational issues but also pandemic-related supply chain issues. While EV sales still grew each year (largely due to Tesla's success), 2022 was significant for EV sales for several reasons. First of all, U.S. battery electric vehicle (BEV) sales grew 65.8% in 2022, according to Kelley Blue Book data. Second, pure-play EV companies that I referred to above finally started making deliveries. Looking at Kelley Blue Book's market share data for 2021, companies like (LCID) and (RIVN) sold literally only a handful of vehicles. But now Rivian, for instance, has earned 2.5% market share in 2022 and is now ranked 7th in U.S. EV sales. Third, while Tesla still dominates the U.S. electric vehicle market, it is experiencing more competition. Its market share fell from 72.2% in 2021 to 64.5% in 2022 — losing share to not only the pure-play electric vehicle manufacturers but also to legacy automakers like Ford. It is important to note that these figures include battery electric vehicles only; it does not include hybrid and plug-in vehicles (PHEV), which have been led by (TM). The latest full-year data for hybrid/PHEV vehicles was in 2021 and can be found in my earlier note here
This all makes sense from a thematic perspective — people are buying EVs (for various reasons including personal preference, tax credits, environmental, or regulatory factors). Demand and sales are growing significantly and still have more room for growth. One of the reasons why investors prefer accessing thematic trends through ETFs is the hope that they will diversify away single-stock risk, including profitability issues. But what if profitability issues are widespread across the sector?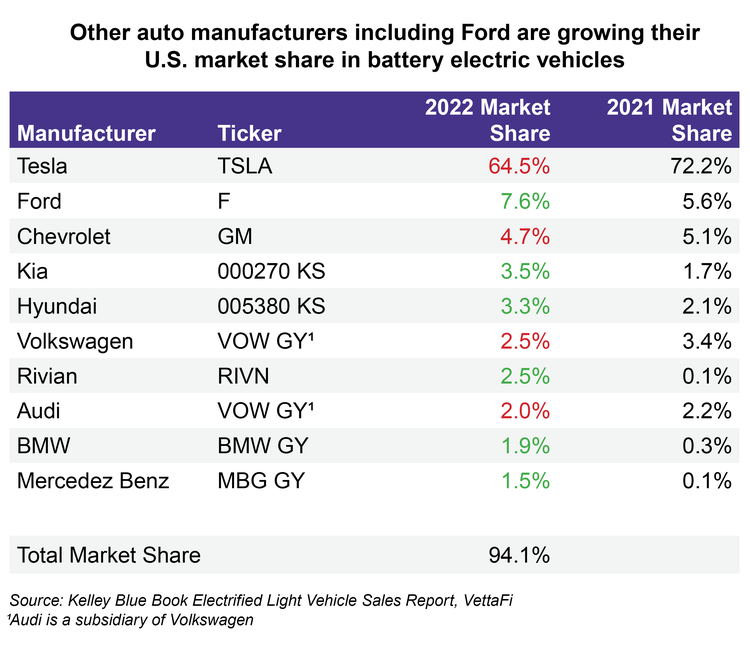 ---
Content continues below advertisement
Profitability: Currently a Widespread Issue, Could Offer Significant Upside When Addressed Properly
Currently, EVs are not affordable for companies to make. While EV companies are finally starting to make revenue, they aren't yet profitable. Data is limited, but Tesla is likely the only U.S. EV manufacturer that makes a profit on its electric vehicles. Other companies actually lose money with each electric vehicle they make. With Ford's recasted financials, investors and analysts — especially those that don't closely follow the sector — are now fully aware that the EV segment is operating at a significant loss.
For 2022, operating margins in this segment were -40%. The company, however, is targeting an 8% margin in the EV segment by 2026 (and 10% for its overall margin). While these targets seem ambitious (and it is debatable whether four years is an appropriate time to make these changes), it is still a good sign for the industry regarding transparency and operating focus. Legacy automakers essentially are operating at least two businesses — their traditional ICE business and a battery electric vehicle business, which basically works like a start-up. Like most start-ups, there is little to no profitability in the early stages as the company ramps up production and invests to build scale. So fortunately, these profitability issues across the industry are likely not permanent, and this is something that should be considered by investors. Legacy automakers are still profitable overall due to their legacy internal combustion engine (ICE) business, but once EV profitability is fully realized, then these stocks should have considerable upside. Ford predicts (see image below from Ford's recent filings) that an optimized manufacturing footprint (i.e., facilities, production capacity, etc.) could contribute 20 points to its EV margin. Design and engineering is predicted to contribute 15 points, and battery improvement (including a vertical integration strategy) is predicted to contribute 10 points. The remaining amount is expected to come from software and services, raw materials, and new dealer standards after accounting for some loss from price competition. While this won't be the same across all auto companies (whether legacy auto or pure-play), this provides some idea of what steps need to occur in order for EV profitability to become a reality. 
Bottom Line: The Way EV ETFs Look in the Future Could Change 
At this stage, it is still early for the electric vehicle industry, and most electric vehicle ETFs have a high allocation toward tech stocks which support the EV infrastructure. These include semiconductor stocks like (NVDA) and other technology companies like (MSFT), which are important to the industry but are also broadly diversified. On average across EV ETFs, about one-third of holdings are weighted to consumer discretionary stocks, which includes passenger vehicle manufacturers (commercial vehicle manufacturers are typically included in the industrials sector rather than the consumer discretionary sector). As manufacturers reach scale and eventually become more profitable, I think EV ETFs will begin to weigh more heavily toward manufacturers and away from broader technology companies. And although legacy automakers have an upper hand with operational scale, cash for investments, and brand recognition, it has become evident from market share data that pure-play EV start-ups are not out of the picture yet and could play a significant role in overall industry revenue and profitability.