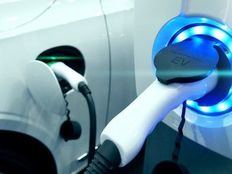 The quick pace of electric vehicle (EV) adoption could easily turn from evolution to revolution. This opens up opportunities for exchange traded funds (ETFs) that can build off this exponential growth in the EV sector and ancillary sectors that support the industry.
More and more automakers are putting out electric models, giving consumers more choices to further spur EV adoption. What was once a bandwagon has now become an unstoppable locomotive powered by increasing sales as the world becomes increasingly more reliant on electric power.
"While sales have slowly ticked up for years, they're now soaring," a MIT Technology Review article said. "The emissions-free cars and trucks will likely account for 13% of all new auto sales globally in 2022, up from 4% just two years earlier, the International Energy Agency. They're on track to make up about 30% of those sales by the end of this decade."
The Government Extends a Helping Hand
U.S. President Joe Biden was already a strong proponent for enacting laws that would address climate change, even before his presidency began. Now we're seeing these policies come into fruition, including the Inflation Reduction Act, which incorporates subsidies that will help support the growth of electric vehicles.
The Infrastructure Investment and Jobs Act, which was made official near the end of 2021, also does its part in supporting EVs. It essentially provides a landscape for funding the necessary infrastructure (i.e. charging stations) that will be necessary to support EV growth and adoption.
"Governments have enacted policies compelling automakers to retool and incentivizing consumers to make the switch," the article added. "Notably, California and New York will require all new cars, trucks, and SUVs to be zero-emissions by 2035, and the EU had nearly finalized a similar rule at press time."
Given these pathways for growth, ETF provider KraneShares has a pair of funds that investors may want to consider to shore up their portfolios for growth. To get all-encompassing exposure to the EV industry, consider the , which invests across the EV ecosystem to capture the growth in batteries, hydrogen fuel cell manufacturing, EV production, and more.
For an ancillary play, consider metals that can support the electrification of the automotive industry. For example, the  offers targeted exposure to the metals that will be necessary for the electrification and clean energy transition of the world's economy in the pivot to net-zero emissions,
---
Content continues below advertisement