A new analysis from Ember, a climate think tank, found that wind and solar were the top sources of electricity in the EU in 2022 for the first time. As Europe continues to transition to renewable energy sources, there is an opportunity within the carbon markets to capture the increasing costs of emissions.
Collectively, the two renewable energy sources made up 22% of the EU's electricity in 2022, surpassing fossil fuel-derived gas for the first time, and maintaining its lead on coal since 2019. Hydropower sources have been facing a significant decline in recent years and nuclear had a sharp drop-off in 2022 when the majority of France's nuclear stations had unexpected outages for much of the year alongside German nuclear plants cycling off. Roughly 83% of the falloff in nuclear and hydroelectricity in the EU in 2022 was met by solar and wind renewable energy.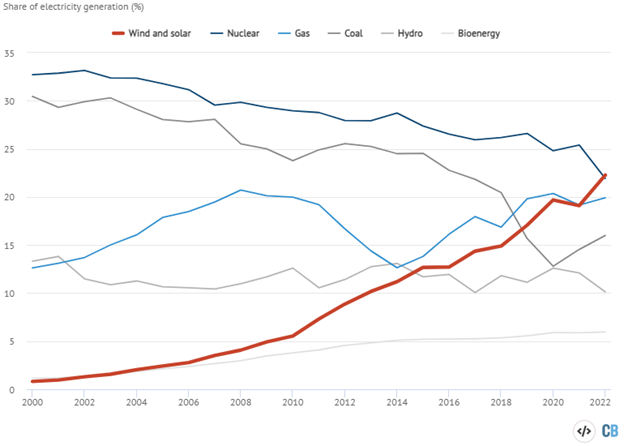 Emissions in the EU have fallen by 32% since 2010 and annual power sector emissions have dropped by 22% over the same period. The increase in renewables last year meant that there was only a 7% increase in coal-generated power compared to 2021 numbers despite the ongoing energy crisis in Europe for much of the year as the EU moved away from Russian oil and natural gas.
"Not only are European countries still committed to phasing out coal, but they are also now striving to phase out gas as well. Europe is hurtling towards a clean, electrified economy and this will be on full display in 2023," said Dave Jones, head of data insights at Ember and lead author of the analysis.
"Change is coming fast, and everyone needs to be ready for it."
---
Content continues below advertisement
Invest in the EU Carbon Transition With KEUA
There is overwhelming policy support for emissions reduction in the EU, with the tightening of the EU Emissions Trading System (ETS) through the REPowerEU and Fit for 55 plans. Continued policy support for the emissions transition helps to establish a foundational floor for carbon prices looking ahead.
As renewables continue to grow in the EU, the increasing cost of emissions from fossil fuel and coal sources creates an opportunity for advisors and investors looking to harness the potential of the energy transition through carbon allowances. The (KEUA ) offers targeted exposure to the EU carbon allowances market and is actively managed.
The fund's benchmark is the IHS Markit Carbon EUA Index, an index that tracks the most-traded EUA futures contracts, a market that is the oldest and most liquid for carbon allowances. The market currently offers coverage for roughly 40% of all emissions from the EU, including 27 member states and Norway, Iceland, and Liechtenstein. KEUA has an expense ratio of 0.78%.
For more news, information, and analysis, visit the Climate Insights Channel.