China has been the world leader for clean energy for over a decade, and continues to expand its renewable energy production as it works to curb still rising emissions and meet net-zero goals set forth by President Xi Jinping. Investors looking to capture the opportunities as demand for renewables within China continues to rise to meet the increase in coal use by the country, the (KGRN B-) is worth consideration.
Yesterday China Energy News reported that the National Energy Administration had released energy data year-to-date as of the end of February, with an increase of 8.5% of total energy demand year-over-year. Wind energy generation increased 11% year-over-year and solar energy rose 30.8% over the same period.
It follows on the heels of China's global dominance of green energy in 2022 when China singlehandedly created almost more new renewable energy capacity alone than the rest of the countries of the world combined.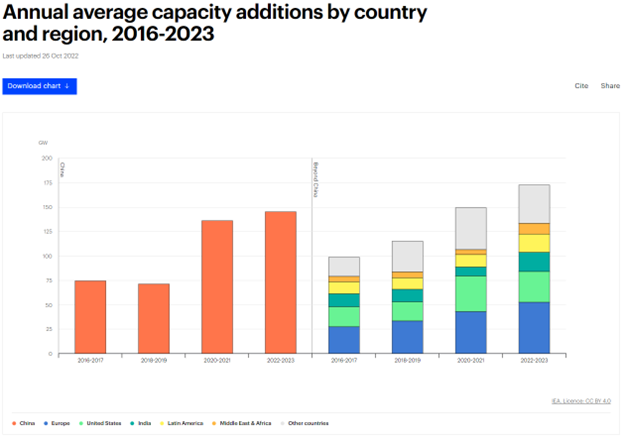 China continues to invest hugely into renewable energy alongside the commitment to building more coal plants, the traditional source of energy for the country. Increased emissions will only serve to drive increased green energy technologies, something that China is investing in hugely already.
In the late 2000s China surpassed the U.S. in green technology investments and then surpassed Europe as well in 2012 to become the global leader in carbon reduction technologies, pouring over $100 billion annually into the space since 2014.
In January and February of this year, China invested 44.8% more into nuclear power than the year previous and 199.9% more on solar power than last year according to data from China's NEA.
President Xi Jinping set a target in 2020 for China's emissions to peak by 2030 and reach net-zero by 2060, a goal it appears to be on track to meet handedly according to Mike Hemsley, deputy director at the Energy Transitions Commission think tank.
"China is building renewables at such a staggering rate [that] it is said to outperform the targets they have set themselves," Hemsley said at the International Energy Week last week according to CNBC. "The implications of that being [that] they will outperform their Nationally Determined Contribution, and they are likely to peak emissions way before 2030, some say around 2025 [or] 2026."
---
Content continues below advertisement
Invest in China's Continued Renewable Energy Dominance
China is currently the world leader in total renewable energy capacity, holding 43% of global capacity, and the (KGRN B-) capitalizes on investing in clean technology in China's growing economy. China plans to have renewable energy make up 35% of its electricity needs by 2030 and is well on the way to that goal.
KGRN tracks the MSCI China IMI Environment 10/40 Index and is based on five clean technology themes: alternative energy, energy efficiency, green building, sustainable water, and pollution prevention
It allows investors direct exposure to ESG market movers in China such as EV carmakers Nio (8.8% weight) and Li Auto (8.69% weight), as well as global battery giant Contemporary Amperex (8.66%) and solar companies such as Xinyi Solar Holdings (4.67%). All holdings are as of 03/21/23.
KGRN has an expense ratio of 0.78%.
For more news, information, and analysis, visit the Climate Insights Channel.