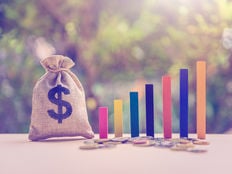 Panasonic, the Japanese tech giant, recently released 2023 earnings and the 2024 fiscal year forecast. The company calls for record net profits in the next twelve months and is the top holding in the (KARS C).
The company reported overall sales growth year-over-year in 2023. However, operating profit declined due in large part to rising raw material costs.

Looking ahead, Panasonic forecasts for a record 350 billion yen ($2.5 billion USD) net profit in the next twelve months. It's strong growth from 2023's 265.5 billion yen ($1.9 billion) net profits. Adjusted operating profit is also forecast to grow from 314 billion yen ($2.25 billion) this year to 430 billion yen ($3.1 billion) next year.
The (KARS C) offers a good solution for investors looking to capture the potential growth of major EV producers globally. Panasonic is the top allocation in the fund at a 5.35% weight as of 05/30/23. The fund takes not just a global approach to EV exposure, but also invests along the entirety of the value chain. It offers diversification for EV investors and is up 1.28% YTD.
KARS measures the performance of the Bloomberg Electric Vehicles Index, which tracks the industry holistically. This includes exposure to electric vehicle manufacturers, electric vehicle components, and batteries. It also includes hydrogen fuel cells and the raw materials utilized in the synthesis of producing parts for EVs.
KARS invests in many familiar car companies such as Tesla, Ford, and Mercedes-Benz, and major Chinese EV manufacturers such as Li Auto, Nio, and BYD. It also goes a step beyond and invests in the companies that contribute to the EV value chain. These include Samsung, Panasonic, and Albemarle, a major lithium manufacturer.
See also: How to Capture Growing Electric Vehicle Demand With KARS
KARS has an expense ratio of 0.70%.
For more news, information, and analysis, visit the Climate Insights Channel.
---
Content continues below advertisement