One of the reoccurring arguments against investing along climate principles is that doing so comes at the cost of returns, but the KraneShares Global Carbon Transformation ETF (KGHG ) continues to challenge that narrative. The carbon transition-focused ETF offered significant return outperformance in the second half of 2022 and is continuing that performance into this year.
KGHG seeks to capture the true potential within the carbon transition by focusing on companies from within industries that are traditionally some of the highest emission offenders but are on the precipice of transitioning to renewable technologies. It goes beyond relying on just a climate pledge and offers exposure to companies making a meaningful transition to renewable energies and away from heavy carbon-emitting practices.
KraneShares believes that the upside potential of investing in these companies as they transition is enormous, particularly in the economic slowing anticipated for this year.
"We believe our thesis of owning 'greening' companies is extremely well-positioned in this slowing environment. Decarbonization activity is driven and supported by government policy and addresses climate goals, the need for energy security, and economic development objectives," wrote Roger Mortimer, portfolio manager of KGHG, in a recent white paper for KraneShares.
These companies that are set to disrupt their industries would benefit greatly from being leaders in the transition, as the cost of carbon emissions will only become more expensive, cutting into the bottom line as demand decreases for high emissions offenders.
Capturing the Carbon Transition and Returns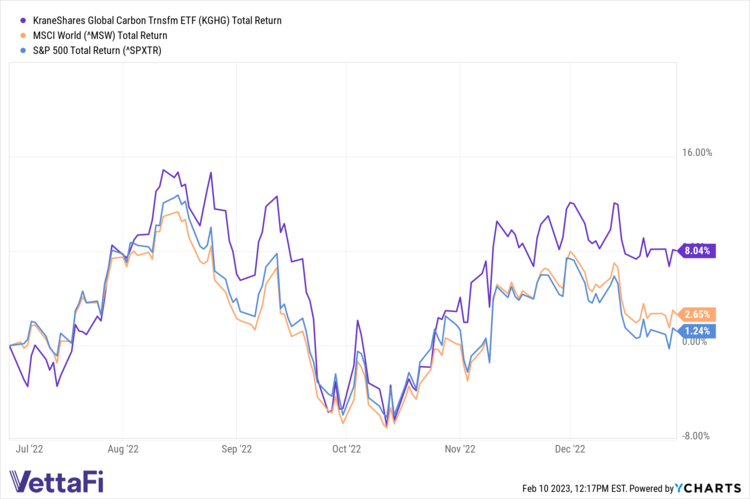 ---
Content continues below advertisement
KGHG doesn't track a benchmark but offered better total returns than core equity benchmarks in the second half of 2022. From July 1- December 31, KGHG had total returns of 8.04% compared to the MSCI World Index at 2.65% and the S&P 500 at 1.24%.
It's a trend that has continued into 2023, with total returns for KGHG of 7.98% in January compared to the MSCI World's 7.10% and the S&P 500's 6.28%
Equities, particularly in the U.S., are expected to face several strong headwinds this year. KGHG, with its global tilt, stands to benefit from the U.S. dollar peaking as more than 70% of the assets within the fund are non-U.S. dollar-denominated securities according to Mortimer.
"Transitioning to lower emission business models offers the potential for superior growth, market share gain, lower cost of capital, margin expansion, and higher valuations than for those companies in the same industries with high emission profiles," Mortimer wrote. "As such, there is a valuation arbitrage to be captured as companies migrate from higher to lower emissions."
KGHG is an actively managed fund that invests globally across market caps and sectors in carbon emissions reducers that are taking active steps to reduce their carbon footprints and services or the carbon footprints of other companies. This also includes companies within the supply chain of the carbon-reducing companies and companies that are growing their businesses with companies that are materially reducing carbon emissions.
The fund utilizes proprietary, fundamental, bottom-up analysis using information disclosed by companies and third-party data.
KGHG carries an expense ratio of 0.89%.
For more news, information, and analysis, visit the Climate Insights Channel.