Commodities are a hard sell in 2023 in an environment of global economic slowing, but demand for many key metals like aluminum that are needed to continue powering emissions reductions could provide pockets of opportunity for investors to consider.
Aluminum not only weathered the economic slowing of 2022 but also saw demand increase in the U.S. and Canada by 4.8% year-over-year, according to the Aluminum Association., the leading voice for the U.S. segment of the industry. That demand did slow in the second half of the year as rising rates and inflation caused economic slowing, but demand still increased by more than the 2.7% GDP growth for the U.S. in 2022.
"Despite some headwinds and softer demand in the second half of the year, this latest data shows an industry built to last," said Charles Johnson, president and CEO of the Aluminum Association, in the press release. "Geopolitical disruptions, supply chain issues and inflationary pressures could continue to pose some challenges in 2023. However, with historic investment in U.S. aluminum manufacturing last year and continued market growth opportunities, the mid-and long-term trendlines for aluminum in America remain incredibly strong."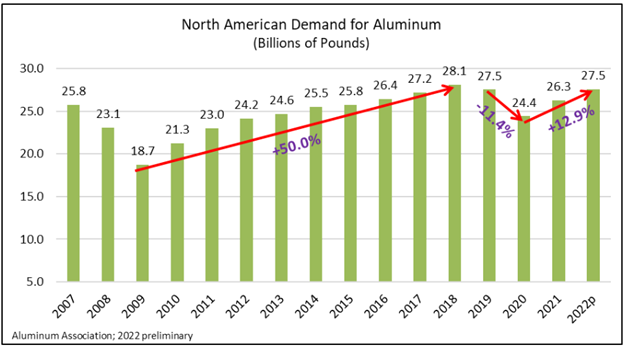 Aluminum is in high demand with car manufacturers, with estimates of 514 more pounds needed per vehicle by 2026, a 25% gain in the last decade. The U.S. has gone all in on domestic manufacturing in the last year, with firms investing over $3 billion to build new greenfield plants that will come online and expand new aluminum rolling and recycling capacity. It marks the first time in over 40 years that a new mill was built in the U.S.
Electrification metals such as aluminum will play increasingly larger roles in the transition to lower- and zero-emissions practices in the years ahead. The KraneShares Electrification Metals ETF (KMET C+) offers targeted exposure to the metals necessary for electrification and the clean energy transition via the futures market.
The fund seeks to track the Bloomberg Electrification Metals Index and is comprised of futures contracts on copper, nickel, zinc, aluminum, cobalt, and lithium. These metals are all core components for batteries, electric vehicles, and the renewable energy infrastructure being created and expanded as countries aim for net-zero emissions by 2050 to curtail global warming.
KMET has an expense ratio of 0.79% and is part of the climate-focused lineup of funds from KraneShares.
For more news, information, and analysis, visit the Climate Insights Channel.
---
Content continues below advertisement