The economic outlook for the U.S. continues to dim as earnings season reveals the true cost of banking sector stress in the first quarter and the impact for many businesses of slowing manufacturing and reduced consumer confidence and spending. Despite increasing recession risks, energy transition continues to churn away in the background, with an increasing number of companies committing to climate pledges and decarbonization. The KraneShares Global Carbon Transformation ETF (KGHG ) is positioned to capture the valuation potential of these transitioning companies.
KGHG focuses on the global industry leaders that are pushing the transition to net-zero emissions. KraneShares believes that the upside potential of investing in these companies as they transition is enormous, with strong valuation opportunities as the dirty companies of today become the industry leaders of tomorrow.
KGHG is currently up 6.12% YTD and is trending above both its 50-day Simple Moving Average as well as its 200-day SMA, a strong buy signal for trend followers.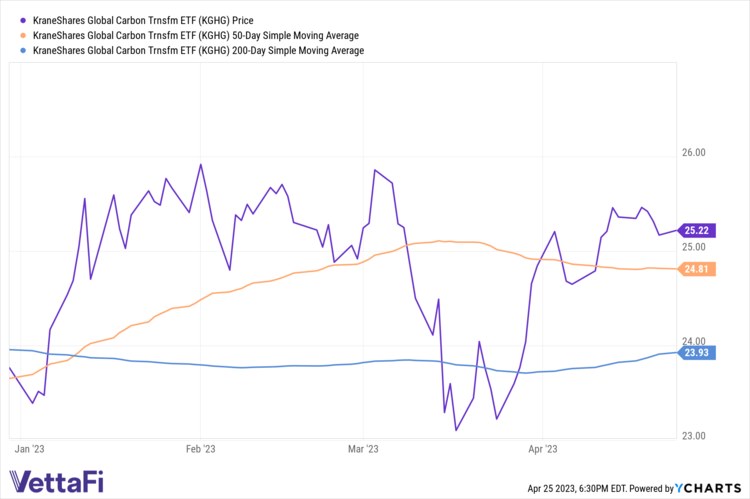 The fund seeks to capture the true potential within the carbon transition by focusing on companies from within industries that are traditionally some of the highest emission offenders but that are on the precipice of transitioning to renewable technologies. These companies that are set to disrupt their industries would benefit greatly from being leaders in the transition, as the cost of carbon emissions will only become more expensive, cutting into the bottom line as demand decreases for high emissions offenders.
As of the end of March, top sector allocations for KGHG were energy at 31.92%, industrials at 30%, utilities at 18.15%, materials at 17.99%, and information technology at 1.03%. Top holdings for the fund include BP PLC (BP) at a 4.45% weighting, Rexel Sa (RXL) at 4.18%, and Eni Spa (ENI) at 4.13%.
---
Content continues below advertisement
KGHG is an actively managed fund that invests globally across market caps and sectors in carbon emissions reducers that are taking active steps to reduce their carbon footprints and services or the carbon footprints of other companies. This also includes companies within the supply chain of the carbon-reducing companies and companies that are growing their businesses with companies that are materially reducing carbon emissions.
The fund utilizes proprietary, fundamental, bottom-up analysis using information disclosed by companies and third-party data.
KGHG carries an expense ratio of 0.89%.
For more news, information, and analysis, visit the Climate Insights Channel.