This year brings yet another summer of smashed records as extreme weather wreaks havoc globally. For the world to curtail global warming impacts, trillions will need to be spent in the next decade on climate adaptations alone, up to 10 times more than current flows as climate risk escalates. It's a trend that carries across all of climate investing, with substantially more needed in the coming years to curb climate change.
In Canada and the U.S., wildfires, record heatwaves, and flooding continue to affect a large swathe of the population. Canadian wildfires rage across western provinces, with more than 1,000 wildfires currently reported and 650 of those unchecked. The wildfires have been attributed directly to human-caused climate change, according to a recent report from World Weather Attribution.
It's still too early to tell the full impacts of the catastrophic wildfires in Maui, with thousands of acres burned and over 800 people still unaccounted for. Regardless, it's the deadliest wildfire in the last century in the U.S.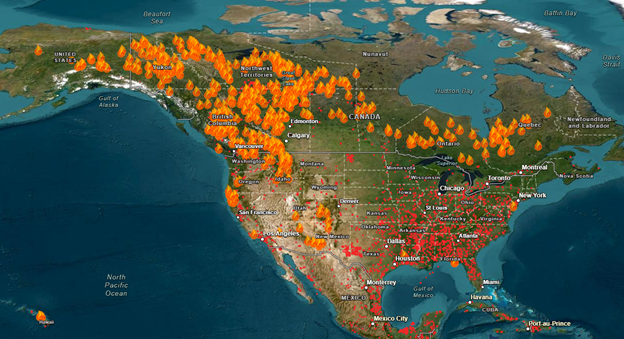 Ocean temperatures off the coast of Florida hit a new record of 101°F in July. Meanwhile, much of the southern U.S. broke local records for the longest string of high temperatures this summer, and the heat simply continues on.
On the west coast, California faced its second-ever hurricane due to a confluence of factors that Dr. Michael Dettinger, hydrologist and climatologist at the Desert Research Institute, attributes to "climate change unchained," according to the New York Times.
---
Content continues below advertisement
Investing in Global Climate Change Reductions
Extreme weather isn't contained to North America either. Wildfires and extreme heat blanketed southern Europe. Meanwhile, Norway, Sweden, and Slovenia contended with flooding and landslides in many areas. In the southern hemisphere, South American countries are logging some of their warmest winter dates on record.
"Globally, we're seeing some of the highest temperatures ever recorded, with the period from July 3-6 marking the hottest four days on record worldwide," reported KraneShares on the Climate Market Now blog. The extreme heat resulted in "the average global temperature reaching more than 17° Celsius (63° F)."
The UN estimates that countries must spend upwards of $300 billion annually by 2030 on climate adaptation initiatives alone. By 2050, that estimate soars to $500 billion annually. Currently, climate adaptation investments make up less than 10% of all climate investments. The trend of falling-short is one that carries across all areas of climate investing while extreme weather events play out more frequently.
"The world may already be struggling to contain the long-term impacts of the Covid pandemic and economic turbulence, but climate remains the one paramount threat to us all," KraneShares wrote.
There are several ways for investors to allocate to the space, from developing the next generation of climate technology to existing carbon capture ventures and more. For advisors and investors looking to invest in the mechanisms of change happening now, carbon markets are an excellent choice.
Regulated cap-and-trade carbon markets drive emissions reductions by continuously increasing the polluting cost. The largest, most liquid markets globally all have different market mechanisms that create diversification opportunity. However, almost all currently aim for net-zero emissions goals by 2050 at the latest, with the exception of China.
Allocate to Carbon Allowance Markets With KraneShares
Regulated carbon markets are a current solution for investors while companies work to reduce emissions and develop next-gen climate technologies that both scale and have measurable impacts on emissions reductions. They're also a fantastic long-term investment, with upward trending pricing momentum as markets tighten over time.
The KraneShares European Carbon Allowance ETF (KEUA ) offers targeted exposure to the EU carbon allowances market and is actively managed. The fund's benchmark is the IHS Markit Carbon EUA Index. This benchmark tracks the most-traded EUA futures contracts, the oldest and most liquid carbon allowances market. Currently, the market covers roughly 40% of all EU emissions, including 27 member states and Norway, Iceland, and Liechtenstein.
The KraneShares California Carbon Allowance ETF (KCCA ) offers targeted exposure to the joint California and Quebec carbon allowance market. This includes California's cap-and-trade carbon allowance program. It's one of the fastest-growing carbon allowance programs worldwide. KCCA is benchmarked to the IHS Markit Carbon CCA Index. The CCA includes up to 15% of the cap-and-trade credits from Quebec's market.
The &KraneShares Global Carbon ETF (KRBN )* was the first of its kind to offer an investment take on carbon credits trading. The fund provides diversified exposure to major carbon markets worldwide and is one of the only major funds to target RGGI. KRBN tracks the IHS Markit Global Carbon Index, which follows the world's most liquid carbon credit futures contracts.
This includes contracts from the European Union Allowances (EUA) and California Carbon Allowances (CCA). It also includes the Regional Greenhouse Gas Initiative (RGGI) markets and the United Kingdom Allowances (UKA).
For more news, information, and analysis, visit the Climate Insights Channel.