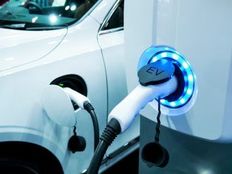 Outside of the U.S., China is the world's largest automobile market. Combine that with the country's status as a leading generator of renewable energy and purveyor of clean technology, and it's logical that the world's second-largest economy is fertile territory for electric vehicle adoption.
It's one reason why Tesla (TSLA) is actively seeking market share there. Investors can efficiently tap into theme of broader EV adoption in China with the KraneShares Electric Vehicles and Future Mobility ETF (KARS C).
KARS, which follows the Bloomberg Electric Vehicles Index, isn't a dedicated China ETF, but it devoted 31.50% of its weight to Chinese equities as of July 31, according to issuer data. That made China the fund's largest geographic exposure by a wide margin over the 20.22% KARS directs to U.S. stocks.
KARS Much More Than Tesla
Like other ETFs in the electric vehicle, KARS features important exposure to Tesla, which is the fund's largest holding, but other components highlight the allure of this fund. Those include BYD, which is China's leading electric vehicle manufacturer. At a weight of 3.73%, that stock is seventh-largest holding in the KraneShares fund. That's relevant because some analysts view BYD as a clear China EV winner.
"We conclude it is cost competitive, thanks to its vertical integration, suitable specs, and volume scale. It enjoyed some edge not only over foreign incumbents, but also Chinese EV startups," according to a recent UBS report.
Analysts from the Swiss bank noted that while BYD faces competitive threats from Tesla, the China-based EV giant is warding off other foreign rivals while besting domestic competitors, too.
"Though Seal sales [have] been behind Tesla Model 3 due to brand and other BYD models' dilution, it's much higher than competing XPeng P7/P7i or Toyota bZ3. We believe BYD's large engineer team has achieved continuous technology improvement over its frequent new model launches — a key competitive strength hard to be surpassed," added UBS.
The bank is also constructive on Li Auto, which it lumps in with BYD as the primary drivers of EV upside in China, as well as battery manufacturer Contemporary Amperex Technology. Contemporary Amperex and Li Auto are KARS' fourth- and ninth-largest holdings, respectively, combining for over 7% of the ETF's portfolio.
UBS has "buy" ratings on both stocks. The average analyst price target on Li Auto is $52.59, implying upside of 38% from the Sept. 8 close.
For more news, information, and analysis, visit the Climate Insights Channel.
---
Content continues below advertisement