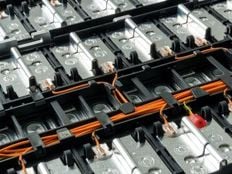 Batteries are part of the foundation that supports the renewable energy transition and that's obviously true with electric vehicles.
That's an investable thesis, and one that's efficiently accessible via exchange traded funds such as the (KARS C). As its name implies, the $189.1 million KARS offers investors considerable leverage to the electric vehicle theme. However, the fund goes beyond the original equipment manufacturing (OEM) side of the equation. It provides a broader avenue to the EV ecosystem, including batteries.
KARS' battery exposure could be an appealing trait to investors. While there could be some near-term bumps, long-term demand is compelling. This is thanks to legislative efforts such as the Inflation Reduction Act (IRA).
"Assuming the battery capacity ramps up as planned in the US, there should be enough IRA-compliant battery supply to meet the base case demand by 2026," according to a recent Citi report. "The long-run electrification story remains strong but near-term demand could be affected by multiple factors including macro economics, consumer sentiment, policy, energy price etc."
Bright Spots for KARS
In good news for patient KARS investors, Citi estimates that EV battery demand will rise 23% this year. While that's slower than the growth seen in the previous two years, the bank forecasts larger increases in 2024 and 2025.
Citi's top pick among battery stocks is Chinese battery maker Contemporary Amperex Technology. Also known as CATL, that stock is a top 10 holding in KARS, accounting for 3.73% of the ETF's roster. The bank's price target on CATL implies upside of 38% from current levels.
"We see strong competitiveness in CATL thanks to its continued R&D efforts, strategic upstream investment, effective cost management, well-established global customer base, and strong pipeline of expansion projects to meet customer demand," noted Citi.
The bank is also bullish on Panasonic, which is KARS' third-largest holding. Citi's price target on Panasonic implies upside potential of 25%.
"Being able to take investment risks to meet rapidly escalating demand represents a major turning point for the company and the battery business," said the bank of the Japanese company.
Citi's top pick among domestic battery-related equities is lithium mining giant (ALB). It accounts for 3.32% of the KARS lineup. That name is highly correlated to battery and EV demand.
"As one of the largest and lowest-cost players in the lithium industry, it looks well placed to leverage off EV demand growth," concluded Citi.
For more news, information, and analysis, visit the Climate Insights Channel.
---
Content continues below advertisement