Grain commodities had a raucous 2022 due to a combination of inflation and Russia's invasion of Ukraine clouding the availability of a third of the world's wheat output. At two points in the year, the posted returns of 70% over a 12-month period.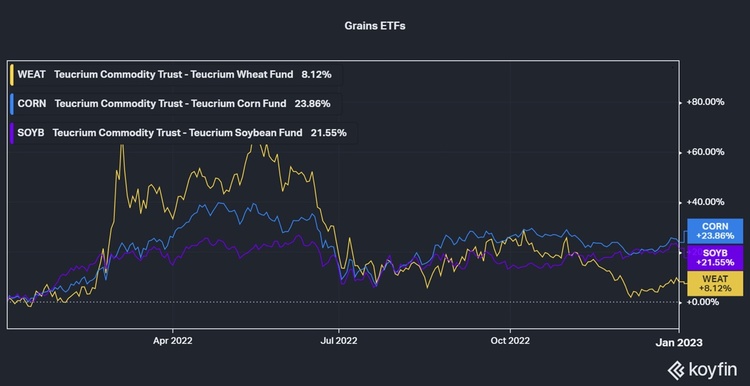 But what do the grain markets hold in store for investors in 2023? VettaFi contributor Dan Mika spoke with Todd Hultman, lead analyst at agricultural data provider DTN, for an outlook on the world's agricultural price action.
Dan Mika, VettaFi: Early last year, grains and wheat in particular skyrocketed after Russia invaded Ukraine, but those prices have returned to pre-war levels in the last couple of months or so. So looking into 2023, how much is that conflict weighing on the price movement of wheat and other agricultural products?
Todd Hultman, DTN: Obviously it's still a big fundamental factor, it's still a big concern. From my perspective, it's still a very dangerous situation for wheat production in the Black Sea. This fall especially was a very difficult planting period for farmers in eastern Ukraine, where much of the fighting still goes on on a daily basis. It's estimated that the fall and winter planting was probably down at least 40% from normal. Maybe down 50% or more from normal, I think, is probably more realistic. This is really the first time the war interrupted the planting period for wheat and it's going to result in a much smaller crop when we get to harvest time in June. Of course, one of the other concerns I have is that we don't know the endgame to this conflict. We don't know if the situation could escalate higher, or if it's going to slowly fade back to black and return to normal. So it makes it a very difficult call for the wheat market in general.
---
Content continues below advertisement
I will say you mentioned prices came back down to pre-war levels, and that's correct. For the past several months, we've just kind of seen the speculative side of the market lose interest in wheat for the most part, and it surprised me a little bit now. The CFTC data is showing that the specs in the market are actually positioned on the short side of wheat, which I think is a very dangerous spot to be in, especially for specs who aren't hedging wheat contracts. They're nakedly short. So there's a little bit of short-term danger in the wheat market right now.
VettaFi: Let's talk about inflation. Even though those wheat prices in particular are bad to pre-war levels, in the U.S., the CPI index for food has risen more sharply in the last few months than ever on record. How much is the current state of play around inflation factoring into how commodities are shaping up heading into this year?
Hultman: There are really two things that are largely influencing inflation. One is the restriction in world food and feed production in the last year, and a big part of that was due to the Ukraine war. The other is the disruption in crude oil production. That's a combination of the old COVID problems plus the war in Ukraine. Crude oil is such a big factor in the entire Consumer Price Index. There's really no component in that index that's not affected by oil prices. Those two things together, the limited food production, as well as the overall lack of domestic and global oil production, has really been keeping those consumer prices propped up. Until that changes, it's hard to see too much change in the CPI situation.
VettaFi: What's the view right now in the space around the Fed's rate hikes over the past couple of months, and now the hikes we're seeing from the European Central Bank and the Bank of England? How central bank action is affecting the outlook for commodities, along with increasing calls of a recession?
Hultman: The higher interest rates are definitely starting to have an impact on individuals and businesses that rely and have relied a lot on cheap credit in the past, but because the higher interest rates haven't succeeded in producing more oil, it really hasn't succeeded much in bringing down the CPI index. Our domestic oil production has increased in the past year from 11.8 million barrels a day to roughly 12.1 million. That's not much of an increase that doesn't really relieve us of the concern that we just don't have enough oil production available to keep those prices down. If you can't keep oil prices down, it's very difficult for anything on the monetary side to keep prices down. So the Fed can inflict pain that can slow our economy or economic activity, and they can do that. But it's not necessarily the entire cure for inflation in this regard. So it puts us in a tough spot where we are facing a risk of at least slowing down, if not recession. The that there is going to be a recession in several places and maybe half of Europe in 2023. So it's going to be a painful outside economic environment, but it doesn't really seem to be succeeding in bringing down inflation yet. So this could go on for some time.
VettaFi: For people who are interested in commodities as an alternative form of investment heading into the year, what would you recommend they pay attention to, particularly if they don't watch the grain markets daily like you do?
Hultman: When it comes to the ag markets in particular, it's really all about weather. We have a situation where we've had some history of drought the past couple of years that has tightened our world supplies of grain. And then you combine that with the Ukraine situation. We're at a point this winter where we have some really historically tight supplies of corn, soybeans, and wheat. But the market of course is going to be concerned about what the next crops that we plant look like. Right now Brazil is on track for a record soybean harvest, which we'll get going here in the next few weeks. In Brazil, and for the U.S., our long-term forecast looks like we're finally getting out from under the La Niña influence, which for the Midwestern U.S. means that we should have a more normal pattern of temperatures and rainfall in the summer ahead. Now, that's still a long-term forecast. It's difficult to be too confident about that outlook yet. But the notion of having good weather conditions this summer in the U.S. is probably going to help us restore some of the surplus that's been missing in corn and soybeans for the past couple of years.