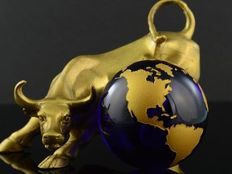 Investors could be dialing down the risk-on sentiment, which could pave the way for more bullishness in gold. With inflation being more stubborn than originally anticipated, it's also an ideal situation to get broad commodities exposure.
"Gold's ability to hold its ground above $1,800 and rally to resistance at $1,850 an ounce is creating some healthy optimism in the marketplace as both retail investors and Wall Street analysts expect higher prices next week," a Kitco News report said.
The bond market, in particular, is seeing higher yields, which is happening at the same time gold is experiencing renewed interest. Market analysts are noting that rising yields confirm that inflation concerns continue to remain at the top of investors' minds.
"Gold can still do well even if nominal bond yields push higher if investors think that inflation will be adjusted higher," said Ole Hansen, head of commodity strategy at Saxo Bank, noting that the recent gold rally pushed prices above a 21-day moving average.
"Gold prices really need to make it above $1,885 or even $1,900 before we see new bullish interest from investors," he said, noting that gold could still get mired in price consolidation pattern. "The market has stopped hating gold, but it won't break out until investors start loving it."
Get Broad and Active Commodities Exposure
Gold is actually the top holding (a 13% allocation as of March 2) in the (NBCM B+). In addition to gold, it offers exposure to a broad range of commodities, allowing for portfolio diversification while also adding a dynamic element with its active management strategy.
With an active management strategy, NBCM essentially puts the portfolio holdings in the hands of seasoned portfolio managers, allowing for changes when market conditions warrant adjustments. This allows an investor to be more flexible, especially with the capital markets responding to the U.S. Federal Reserve and interest rate policy.
The fund invests in commodity-linked derivatives with an active risk-balanced, diversified approach that seeks to minimize the effects of market volatility — something privy to the commodities market. Tactical exposure adjustments expand potential alpha sources by considering top-down macro variables among commodity sectors and individual commodity outlooks to take advantage of short- and long-term opportunities.
With a 0.65% net expense ratio, the fund currently has 28 commodity holdings. As mentioned, the top allocation goes to gold, with corn, Brent crude, WTI crude, and gasoline rounding out the top five holdings.
For more news, information, and analysis, visit the Commodities Channel.
---
Content continues below advertisement