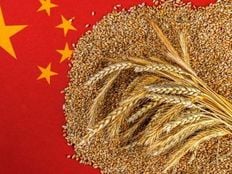 Wheat prices may be retreating, but demand in China could help counteract the recent bearishness. That said, investors may want to take advantage of the dip in prices with the (WEAT C).
China's re-opening of its economy couldn't come at a better time for wheat prices. After a rise in COVID-19 cases, government-mandated lockdowns restricted economic growth, but now that lockdowns are easing, demand for wheat is rising in the second-largest economy.
"Wheat prices trended lower following the April 2023 World Agricultural Supply and Demand Estimates report, largely due to reduced 2022/23 U.S. feed and residual usage," a Farm Progress commentary noted. "USDA added an extra 5 million bushels to beginning year supplies from lower 2021/22 export volumes."
"But there was one bullish highlight for the wheat market from the April report – China's wheat import forecasts were increased by 73 million bushels to 441 million bushels, making it the largest global buyer of wheat," the commentary added.
Weather, Geopolitics Still a Prime Catalyst
A common refrain for agricultural commodities in terms of their price movements is weather. It's the same narrative when it comes to wheat prices, and as such, weather will remain a prime catalyst — pushing with or pulling against the effect of China's increased demand.
"Wheat prices seem to be deriving more of their price action from expectations for the upcoming year's crop production and global trade flows," the Farm Progress commentary said. "Expect prices to remain responsive to weather trends in the U.S. until more market intel is available about international wheat production this year."
Additionally, the effect of geopolitics can't be ignored, especially as the conflict continues between Russia and Ukraine. Until the two nations can get a grain deal in place that will prevent the restriction of supply, wheat prices will remain in flux, and thus far, trading activity in wheat futures reflects this mixed sentiment.
"Russia's increased control of its wheat exports threatens to obscure prices and curb efficiency in the global grains market, according to Cargill Inc.'s head trader," Bloomberg reported.
"Russia's grip on its wheat is tightening after three of the biggest global traders — Cargill, Viterra and Louis Dreyfus Co. — said they will stop buying grain for export, leaving Russian grain supplies largely in the hands of domestic and government-funded companies," the report added.
For more news, information, and analysis, visit the Commodities Channel.
---
Content continues below advertisement