Recession fears continue to keep the capital markets on edge as the Federal Reserve tries to bring the economy to a soft landing, but to temper further expectations of inflation, consider getting commodities exposure.
Commodities have offered investors a prime hedging strategy to mute the effects of inflation. The good news lately is that inflation expectations are starting to dissipate, as seen in the Fed's index of common inflation expectations.
"A broad-based measure of inflation expectations compiled by the Federal Reserve fell last quarter to its lowest level in almost two years, according to data supplied by the central bank on Friday (April 21)," Bloomberg reported recently.
"The index of common inflation expectations stood at 2.22% at the end of last quarter, down from 2.31% on Dec. 31, 2022 and the lowest level since June 30, 2021, when it stood at 2.18%," the report added further.
Nonetheless, it's still essential to get commodities exposure not only as a strategy to hedge against inflation, but also to diversify a portfolio. In terms of long-term performance, the Bloomberg Commodity Index is up almost 80% within the last few years, allowing investors to hedge away inflation amid prices increases for commodities overall.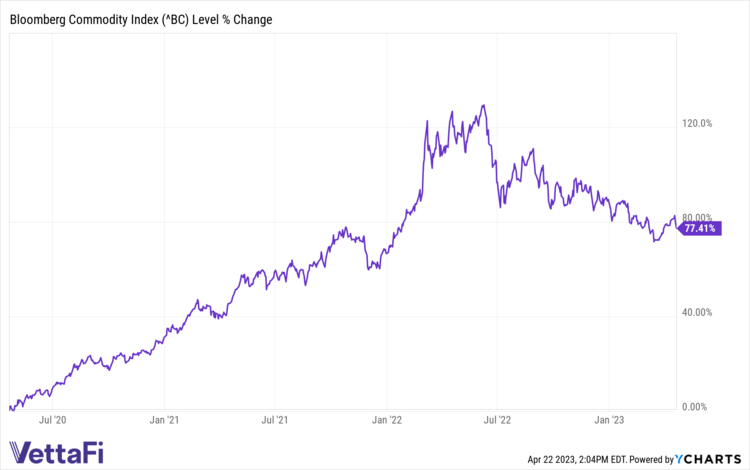 Outpacing the Bloomberg Index
Investors looking into exchange traded funds (ETFs) that provide commodities exposure should consider the the (NBCM B+). When juxtaposed with the aforementioned Bloomberg Commodity Index, the fund has been outpacing the index as of late.
Part of NBCM's secret sauce is its use of active management, which allows for fluidity when adding commodities exposure. With its active management style, NBCM puts the portfolio holdings in the hands of seasoned portfolio managers, allowing for changes to holdings when market conditions warrant necessary adjustments.
The active management adds a layer of flexibility to an investor's portfolio, especially given that commodities can be volatile at times. Unlike the Bloomberg index, NBCM's holdings can be tailored for greater exposure to certain commodities when they exhibit strength, and vice versa when there's weakness.
The fund invests in commodity-linked derivatives with an active risk-balanced, diversified approach that seeks to minimize the effects of market volatility — which is connected to the commodities market. Tactical exposure adjustments expand potential alpha sources by considering top-down macro variables among commodity sectors and individual commodity outlooks to take advantage of short- and long-term opportunities.
---
Content continues below advertisement