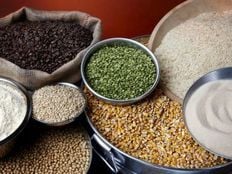 There's a plethora of options available when it comes to getting commodities exposure. That said, consider an active option that offers diversification such as the (NBCM B+).
With inflation running hot, it's easy to see why investors have been flocking to commodities the past year as a hedging option. The Intercontinental Exchange (ICE) has been seeing massive interest in commodities amid a confluence of macroeconomic and geopolitical factors driving investor strategies.
"Intercontinental Exchange has reported record open interest across its global commodities and energy futures and options markets, with open interest hitting a record 50.7 million contracts across commodity futures and options on February 22, 2023," an article listed on Finance Feeds said, noting that the figure beat a previous record set in October 2021.
As mentioned, geopolitical factors have been feeding a rise into commodities — namely Russia's invasion of Ukraine over a year ago. Russia's occupation of the Black Sea prevented exports from leaving Ukraine, causing a jump in certain agricultural commodities and exacerbating a global food crisis.
"ICE also hit record open interest that day of 46.8 million contracts across its global energy futures and options markets, beating the previous record set in April 2022," the article added.
Getting Active, Diversified Exposure
Investors looking to add commodities to their portfolios may want a basket of commodities as opposed to over-concentrating in a few. NBCM allows for this diversification while also adding a dynamic element with its active management.
An active strategy essentially puts the portfolio holdings in the hands of seasoned portfolio managers, allowing for changes when market conditions warrant adjustments. This allows an investor to be more flexible, especially with the capital markets responding to the U.S. Federal Reserve and interest rate policy.
NBCM invests in commodity-linked derivatives with an active risk-balanced, diversified approach that seeks to minimize the effects of market volatility. Tactical exposure adjustments expand potential alpha sources by considering top-down macro variables among commodity sectors and individual commodity outlooks to take advantage of short- and long-term opportunities.
With a 0.65% expense ratio, the fund has 28 commodity holdings as of February 28. Right now, the top allocation goes to gold, with corn and oil also in the top five holdings.
For the investor looking to get broad exposure to commodities, this fund could be ideal. As opposed to holding various commodities, investors get convenient, dynamic exposure all in the convenience of one ETF.
For more news, information, and analysis, visit the Commodities Channel.
---
Content continues below advertisement