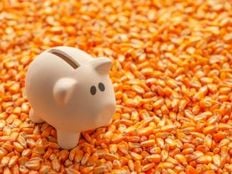 One month into 2023, agricultural commodities experienced a slight uptick, according to an S&P blog. Likewise, the S&P GSCI Agriculture index saw a light bump with a 0.38% gain so far this year.
"The S&P GSCI Agriculture finished the month up 1.18%, with softs outperforming, while only wheat lagged," the blog said.
Aside from inflation, one of the major movers of ag commodities in 2022 was geopolitical factors, especially Russia's invasion of Ukraine, which prevented exports from leaving the country, thereby causing certain commodities to spike.
Wheat prices, in particular, saw this tangible price move in the country of India. In the U.S., however, prices are easing. The slight rise in India could be the calm before the proverbial storm. Other ag market experts foresee volatility ahead for the rest of the year.
"Number one, I don't think volatility goes away anytime soon," said University of Missouri Extension ag economist Scott Brown.
Get Broad Ag Commodities Exposure
If agricultural commodities can continue the uptrend through the rest of 2023, it makes them an ideal inflation hedge, even though the expectation is that the Fed can get prices under control. Nonetheless, there's no telling what the Fed will do, so either way, getting ag commodities can serve a portfolio as an asset diversifier that's uncorrelated to the broad market.
For easy, convenient exposure, consider the (TAGS B). It offers an ideal option to get ag commodities exposure without having to hold various commodities for diversification purposes.
The fund, which features a low 0.13% expense ratio, combines exposure to corn, wheat, soybeans, and sugar through other Teucrium ETFs that focus specifically on these commodities, essentially offering investors a fund of funds.
Funds featured in TAGS:
Likewise, if investors want specific exposure to a particular commodity, such as corn, wheat, soybeans, or sugar, they can invest in those funds individually.
For more news, information, and analysis, visit the Commodities Channel.
---
Content continues below advertisement