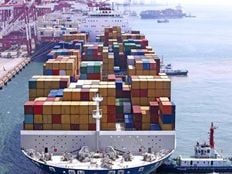 After a strong start to 2023, volatility returned to the capital markets in February. Commodities weren't immune to the volatility, paving the way for active management strategies inherent in the (NBCM B+).
NBCM provides exposure to a broad range of commodities, allowing for portfolio diversification while also adding a dynamic element with its active management strategy. With central banks acknowledging that getting inflation under control will take some time, more volatility than was present in February could be ahead.
"The S&P GSCI, the world's leading commodities benchmark, could not escape the volatile markets experienced in February, as the index fell 3.83% for the month," a S&P Dow Jones Indices blog noted. "Despite recent declines, inflation remained high, which kept the U.S. Fed steadfast in its rate-hiking campaign, and expectations for a possible easing by year-end 2023 were squashed in the latest Fed commentary."
After falling 2.5% until the beginning of February, the ICE U.S. Dollar Index (DXY) started to move higher again. The expectation of rising interest rates could keep pushing the dollar higher until central banks feel they can tame inflation, which means an effective hedge like commodities is ideal.
"A strong retracement higher of the U.S. dollar from the weakness seen in January put pressure on all major commodities, which are priced in U.S. dollars globally," the blog added.
Active Flexibility in Volatile Ag Commodities
Investors looking to add commodities will need to be comfortable with impending volatility, as inflation looks like it will stick around for some time. However, NBCM can provide an effective inflation hedge with its active management strategy in agricultural commodities.
With its active management style, NBCM puts the portfolio holdings in the hands of seasoned portfolio managers, which will allow for changes to holdings when market conditions warrant necessary adjustments. This adds a layer of flexibility to an investor's portfolio, especially with the capital markets responding to the U.S. Federal Reserve and interest rate policy.
The fund invests in commodity-linked derivatives with an active risk-balanced, diversified approach that seeks to minimize the effects of market volatility — something privy to the commodities market. Tactical exposure adjustments expand potential alpha sources by considering top-down macro variables among commodity sectors and individual commodity outlooks to take advantage of short- and long-term opportunities.
NBCM comes with a 0.65% net expense ratio (0.79% gross), and the fund currently (as of March 9) has 28 commodity holdings for diversified exposure. The current top allocation goes to gold, with corn, Brent crude, WTI crude, and gasoline rounding out the top five holdings.
For more news, information, and analysis, visit the Commodities Channel.
---
Content continues below advertisement