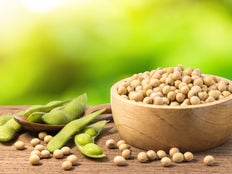 Agricultural commodities like soybeans have witnessed a rollercoaster ride with inflation and geopolitical events like Russia's invasion of Ukraine providing a heavy dose of volatility. Heading into the new year, soybean prices will still hinge upon those factors, but also the production aspect in the country of Brazil.
It appears consumers may get a much-needed reprieve from rising prices. With specific regard to soybeans, the country of Brazil could be ramping up its production heading into the new year, increasing supply and thus, pushing prices lower.
"Brazil's forecasted record soybean production could push global soybean supplies to their ever in 2022/23, good news for countries facing tight inventories of other agricultural commodities and historically high food prices," a said.
"Brazil, the world's largest soybean exporter, has mostly completed its soybean crop planting. Favorable early weather and expanded acreage point to a in production versus last year, according to Brazil's CONAB," the report added.
Brazil's production schedule would have a profound effect on soybean farming in the U.S. That, coupled with China's re-opening amid a surge in COVID-19 cases, could appease pent-up demand from the world's second-largest economy.
"Such a production jump would have ramifications for worldwide and could influence what US farmers plant for the 2023 season," the report said. "Brazil and the U.S. compete to satisfy China's substantial soybean import demand, which has soared tenfold since 2000 to record levels, as shown in this ."
Get Soybean Exposure in One Fund
While there are several ways to get exposure to soybean prices, an easier, all-inclusive alternative is to opt for the Teucrium Soybean Fund (SOYB B). SOYB can offer similar exposure to what investors could obtain by trading in soybean futures contracts themselves.
Inflation will continue to be a hot topic heading into 2023 with the U.S. Federal Reserve being the main focus of interest. The prevailing expectation is that the Fed will tighten rates at a slower pace with the hope that inflation will eventually dissipate.
Nonetheless, if the Fed continues an aggressive path, it helps to get commodities exposure as not only an inflation hedge but also a portfolio diversification tool. For investors looking at ways to mute the impact of inflation, commodities may also be beneficial for inflationary periods, according to experts, making them a valuable hedge against the surge in the prices of goods and services the past year.
---
Content continues below advertisement