Investors bullish on rising wheat prices could be smiling all the way into 2024 with only one month down in 2023. While there are various ways to get wheat exposure, one convenient way is to use exchange traded funds (ETFs).
"Wheat prices continue their volatile upward trend and hit record levels this marketing year and are expected to remain elevated into next year," an Investing.com article noted. "They will surely remain in primary focus of agricultural commodity traders going forward."
The commodity has been steadily rising over the past three years, but spiked in 2022 during Russia's invasion of Ukraine. Russia's occupation of the Black Sea stifled Ukraine's exports, including wheat and other commodities, pushing prices higher as supply was reduced and demand stayed high.
Other countries have been turning to other wheat producers amid the invasion, including the United States. As such, wheat traders are paying attention to U.S. production numbers though they have been declining as global competition rises.
"Although the United States typically produces only about 6-7% of the world's wheat, it is a major wheat exporter," the article added. "As competition in global wheat markets has grown, farmers' returns for planting wheat in the U.S. have declined relative to other crops, which has additionally encouraged some farmers to reduce wheat plantings. Changes in farm legislation in the mid-1990s that allowed farmers more flexible crop choices also reduced wheat acreage."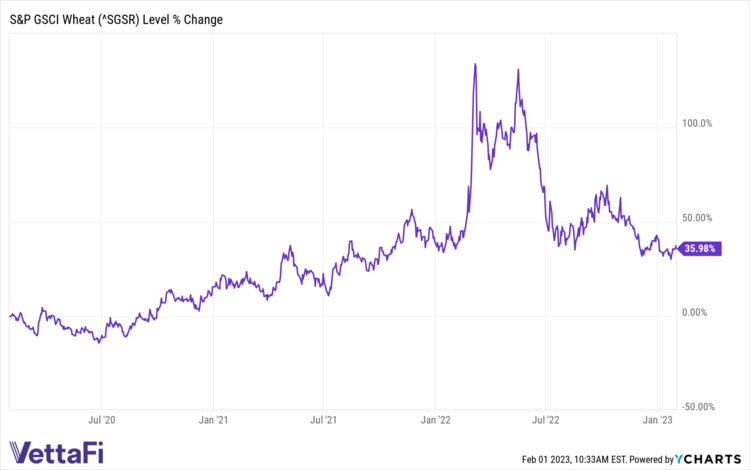 Get Exposure to Wheat in a Single ETF
Economic policy, particularly in the current times where inflation is high, will continue to remain a wild card in any market, regardless of the asset class. There's no telling what the U.S. Federal Reserve will do with respect to interest rate policy, and agricultural commodities can offer that hedge should prices continue to keep on rising.
Furthermore, agricultural commodities like wheat offer investors alternative exposure to traditional assets in a portfolio like stocks and bonds. They can provide exposure to an asset that's largely uncorrelated to stocks or bonds, offering portfolio diversification.
Additionally, rising wheat prices should benefit ETFs that focus on the commodity, such as the (WEAT C). As mentioned, the fund can be used as an ideal inflation hedge as prices continue to rise alongside rising commodity prices, or investors can use the fund to add commodities to their portfolios for diversification.
For more news, information, and analysis, visit the Commodities Channel.
---
Content continues below advertisement