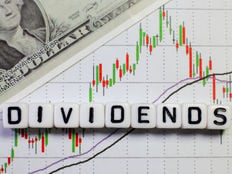 While dividend stocks are looking increasingly attractive as government bond yields decline, dividend growth expectations for 2020 are paltry, but some market observers believe those estimates are too conservative and next year's S&P 500 payout growth will top forecasts.
That could be good news for ETFs like the ProShares S&P 500 Aristocrats ETF (NOBL A-). NOBL tracks the S&P 500 Dividend Aristocrats Index, targets the cream of the crop, only selecting components that have increased their dividends for at least 25 consecutive years. Consequently, investors are left with a portfolio of high-quality, sustainable dividend payers.
Goldman Sachs "analysts note that the dividend swap market implies that dividend growth will slide to 1% in 2020 from 8% this year. Goldman Sachs, however, is forecasting a 6% increase in dividends per share for S&P 500 companies next year—compared with 7% this year," reports Lawrence Strauss for Barron's.
Look For Dividend Growth In 2020
Improving earnings growth could bolster dividend growth in 2020. Investors should consider quality dividend growth stocks that typically exhibit stable earnings, solid fundamentals, strong histories of profit and growth, commitment to shareholders, and management team convection in their businesses.
With NOBL being a dividend ETF, it is a perfect strategy for long-term investors to consider. Dividend-paying companies have also exhibited a long history of outperforming the markets. Since 1960, dividends have contributed approximately 33% of the S&P 500's total return.
As is usually the case, some sectors are expected to deliver significant payout growth next year.
Related: NOBL ETF: Shelter For When Markets Decline
"Among sectors, the analysts expect the fastest dividend growth next year to come from technology, financials, and health care—all about 10% year over year. Among the sectors they expect to have the lowest dividend growth in 2020 are utilities and real estate, both up 5%," according to Barron's.
Financial services, healthcare, and technology stocks combine for about a quarter of NOBL's weight while the ETF features no utilities exposure and just a 1.8% weight to the real estate sector, according to ProShares data.
For more market trends, visit ETFdb.com.
Editor's Note: This article originally appeared on our sister site ETF Trends.
---
Content continues below advertisement