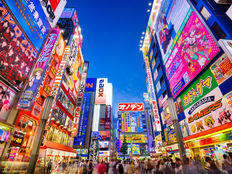 As many look around for attractive bargains in the markets, investors may want to consider Japan exchange traded funds to diversify a portfolio.
According to Citigroup Inc., Japanese markets may be a buying opportunity after the recent slide, even as a potential trade deal with the U.S. was overshadowed by broader uncertainties, Bloomberg reports.
Among the better performing non-leveraged ETFs of Monday, the WisdomTree Japan Hedged Equity Fund (DXJ B-), iShares Currency Hedged MSCI Japan ETF (HEWJ B-) and Deutsche X-trackers MSCI Japan Hedged Equity ETF (DBJP A+) all gained 2.3%.
The weaker yen also helped the currency-hedged ETF strategies outperform, with the Invesco CurrencyShares Japanese Yen Trust (FXY C) down 0.7% as the yen currency depreciated to JPY106.14 against the U.S. dollar.
Currency hedged ETF strategies
Currency hedged ETF strategies included currency swaps to diminish the negative effects of the weaker local currency.
Citigroup strategist Tomochika Kitaoka pointed out that the Japanese markets may follow a similar trend as with other recent pullbacks. Since 2017, the Topix has dipped around 3% after U.S. tariff scares while the yen strengthened about 1 yen per dollar before markets stabilized two to three weeks later. The yen would then surge to a three-year high before paring gains.
"We expect a modest rebound in autumn as negative catalysts are exhausted and net selling tapers off," Kitaoka said in a note. "Now is a good opportunity to increase exposure to undervalued stocks with specific catalysts such as share buybacks, as typified by autos and transport equipment given the likelihood of a favorable outcome for U.S.-Japan trade talks."
Related: Japan Enters the High Yield Game With Latest Bond Offering
The U.S. and Japan have agreed on a trade deal where Japan would cut tariffs on U.S. beef, pork and other agricultural products but continue to face levies on its own auto imports. Japanese officials may consider this a good outcome if their automakers will be protected from further painful tariffs.
This article originally appeared on ETFTrends.com.
---
Content continues below advertisement