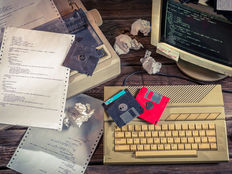 However, there are some opportunities out there in old schools technology stocks, such as Cisco Systems (CSCO) and International Business Machines (IBM), just to name a pair. Importantly, many legacy technology are dividend payers and growers.
That theme is accessible via the newly minted ProShares S&P Technology Dividend Aristocrats ETF (TDV A). TDV is the only ETF focused on U.S. technology dividend growers—Technology Dividend Aristocrats—that have raised their dividends for a minimum of seven consecutive years.
Interestingly, many old guard tech stocks, such as Cisco, IBM, and Oracle (ORCL), have the look of value stocks.
"The companies in our legacy tech universe, in comparison, all trade from nine to 14 times earnings, well below the broader market," reports Eric Savitz for Barron's.
No School Like The Old School
Microsoft, one of the best-performing names in the Dow Jones Industrial Average, is seen as a case study in how old school tech names can find new life.
"For any legacy tech executive or investor, the experience of Microsoft offers hope. The stock is up nearly fivefold since CEO Satya Nadella took the reins from Steve Ballmer in 2014. Double-digit revenue growth has helped push the company to a $1 trillion-plus valuation," according to Barron's.
Microsoft has 13 consecutive years of dividend growth, easily qualifying it for TDV's roster. As for Apple, that stock isn't yet part of TDV's lineup, but the iPhone maker has been a dedicated dividend grower in recent years and it looks like just a matter of time before enters the ProShares fund.
Among legacy tech companies found in TDV that could find the right recipe for positive transformation, IBM could be one.
Related: How Income Investors Can Play the $500 Billion 5G Boom
"IBM's enterprise computing know-how gives the company some advantages. And the company has a successful history of reinvention. It has built and sold large businesses in desktop PCs, laptops, printers, disk drives, and semiconductors. Today, IBM's vast workforce—more than 350,000—is mostly in services and information technology consulting," reports Barron's.
IBM's dividend increase streak resides at 23 years.
This article originally appeared on ETF Trends.
---
Content continues below advertisement