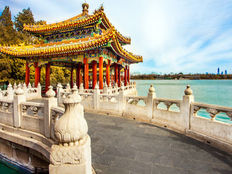 Some of the largest international ETFs trading in the U.S. target FTSE Russell indexes, including the Vanguard FTSE Emerging Markets ETF (VWO A+). Some of those funds will soon see increased China exposure as A-shares stocks join FTSE Russell benchmarks.
This month, the index provider is starting its previously announced effort to include the stocks trading on mainland China in some of its widely followed international indexes.
"China A Shares have been added to the FTSE Emerging Index as of Monday June 24th, 2019," said FTSE Russell in a statement out Monday. "This marks the first time Mainland China listed companies, or 'China A Shares', will be included in FTSE Global Equity Index Series (GEIS). Originally announced in September 2018, the inclusion of over 1,000 small, mid and large-cap China A Shares are expected to constitute c. 5.5% of the total FTSE Emerging Index, representing initial net passive inflows of $10 billion of assets under management."
Global investors traditionally accessed Chinese company stocks through listings through Hong Kong or New York Stock Exchange, but the recent inclusion of mainland Chinese A-shares to these widely observed global benchmarks now makes Chinese markets more important than ever, potentially opening up a closed off market to a huge pool of potential investors.
The Entry of A-shares
VWO is the world's largest emerging markets exchange traded fund by assets.
"The drivers for this are clear. Over the past decade, China has made great strides in opening up its market as part of an extraordinary economic transformation over the last 40 years which has seen it grow to become the second largest economy in the world," said Jessie Pak, Managing Director, Asia, FTSE Russell. "Like any emerging market, development is not linear and we will measure progress at the completion of each phase."
The entry of A-shares into FTSE indexes starts this month and a second round of inclusion will happen in September. The third and final tranche occurs next March. Twenty percent of the A-shares going into FTSE indexes go in this month with the inclusion percentage jumping to 40% in the next two tranches.
Based on June 19 prices, the combined market value of A-shares entering FTSE indexes over the three inclusion periods is about $355 billion.
For more investment strategies, visit our Core ETF Channel.
---
Content continues below advertisement