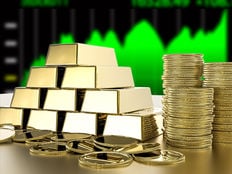 Gold has exhibited an inverse relationship to the U.S. dollar. U.S. investors look to the physical asset as a better store of wealth when the currency depreciates while foreign investors can buy more of the cheaper USD-denominated gold bars.
Gold ETFs are pushing to the upside amid increased expectations of a U.S. rate cut, even as some investors locked in profits from bullion's recent rally. Gold is believed by many investors to be inversely correlated with interest rates. Rising interest rates make bonds and other fixed-income investments more attractive so that the money will flow into higher-yielding investments, such as bonds and money market funds, and out of gold, which offers no yield at all during times of higher interest rates, and back into gold ETFs.
Going For The Gold
"Gold has demonstrated its safe-haven qualities, and we stay long the metal, a trade we initiated in mid-May," said UBS Wealth Management.
The asset manager "has a three-month trading range of $1,450-$1,600, plus a six-month forecast of $1,600 and 12-month view of $1,650, after both the half-year and 12-month outlooks previously were set at $1,500/oz," according to Seeking Alpha.
With geopolitical headwinds running hot and China not budging on trade with the U.S., safe-haven assets such as gold are highly attractive in the current environment.
Related: Gold Pushes Past $1,550 for First Time in 6 Years
"Gold is proving its worth as a haven this year as the two largest economies trade blows, with a significant escalation on Friday, followed by more hard-line remarks from President Donald Trump over the weekend," according to Bloomberg. "The Federal Reserve reduced interest rates last month as risks mounted, and some U.S. policymakers have stepped up their warnings about the outlook in recent days."
Investors have looked to GLD, GLDM and related ETFs as a quick and easy way to gain exposure to gold price movements as they hedge against market risks, help protect their purchasing power in times of inflationary pressures or capitalize on increasing demand from the emerging markets with a growing middle-income class.
This article originally appeared on ETFTrends.com.
---
Content continues below advertisement