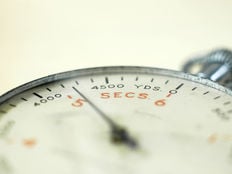 Once lagging small-cap stocks and ETFs have gained some momentum in recent weeks. For example, the iShares Russell 2000 ETF (IWM A-), which tracks the widely observed Russell 2000 Index of small-cap names, is higher by more than 8% this month, but some market observers believe the small-cap rally could be tested on the charts.
IWM's near-term challenges included this week's Federal Reserve. If another interest rate cut emerges from that meeting, as is widely expected, small-cap benchmarks could be punished due to their large weights to rate-sensitive financial services stocks.
In theory, small-cap stocks should be performing better than they are because of their domestic focus, a trait that should be advantageous at a time of heightened trade tensions. About 82% of the revenue from Russell 2000 companies is generated within the U.S. In comparison, around 50% of generate from S&P 500 companies is generated domestically.
IWM's larger weight to financials, a sector that has been drubbed by declining interest rates, is plaguing the small-cap fund.
Steven DeSanctis, equity strategist at Jefferies "pointed to rising bond yields as evidence that the market believes the U.S. economy will avoid a recession next year, but also predicted that the Russell 2000 will benefit from a Federal Reserve interest rate cut for the second time this year at the conclusion of the central bank's meeting Wednesday," reports MarketWatch.
Investigation Of IWM
IWM allocates over 22% of its weight to financial services stocks, which are vulnerable to declining net interest margins at the hands of lower interest rates.
In a prolonged bull market with the economy entering the later phases of the business cycle, investors have turned to more growth-oriented areas of the market, including technology names, to capture greater returns.
Related: Vulnerable Sector is Weighing on Small-Cap ETFs
On the other hand, a shift in monetary policy out of the Federal Reserve, along with falling rates due to increased demand for safe-haven assets, has depressed yields on the end of the yield curve and diminished margins for many banks trying to turn a profit on loans.
"Though small caps have been undervalued relative to large for many months, DeSanctis argued that investors are now turning their attention to 2020 earnings, helping spark the recent outperformance," according to MarketWatch. "He predicts Russell 2000 index company earnings growth could be as high as 10% next year, after a year in which rising labor and input costs, along with the fading effects of the 2017 corporate tax cut, led Russell 2000 earnings to fall significantly year-to-date."
This article originally appeared on ETFTrends.com
---
Content continues below advertisement