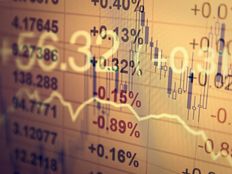 With U.S. interest rates declining, some investment-grade corporate bond strategies are performing well this year. For example, the ProShares S&P 500 Bond ETF (SPXB B) is higher by nearly 10% year-to-date.
SPXB, the first ETF dedicated to corporate bonds issued by S&P 500 member firms, follows the S&P 500/MarketAxess Investment Grade Corporate Bond Index.
SPXB only holds investment-grade debt. The smart beta indexing component is also incorporated in the screening process. From over 5,000 bonds issued by S&P 500 companies, the underlying index selects and weighs up to 1,000 of the most liquid investment-grade bonds based on several criteria.
"Our fundamental credit strength strategy uses credit ratios to screen out issuers with risky credit profiles and construct corporate bond portfolios with strong credit quality," said S&P Dow Jones Indices in a recent note. "Our research shows that a credit strength strategy can potentially reduce return volatility and improve drawdowns."
SPXB ETF Perks
SPXB has a 30-day SEC yield of 3.06%, which is slightly below that of the Markit iBoxx USD Liquid Investment Grade Index. That index allocates about 30% of its weight to corporates issued by financial services firms, slightly higher than SPXB's weight to issuers from that sector.
"A traditional corporate bond index weighs constituents by bond size, meaning an issuer's weight is dictated by the amount of debt the issuer has outstanding," according to S&P Dow Jones Indices. "Therefore, a market-value-weighted corporate bond index tends to have its weight disproportionately concentrated in issuers from the Financials sector, as illustrated by the S&P U.S. Investment Grade Corporate Bond Index."
Related: The First ETF Investing Exclusively in the Bonds of the Iconic S&P 500
At the end of the second quarter, SPXB's duration was 7.92 years, and about half its holdings were rated in the BBB range with most of those in BBB+ or BBB territory. Nearly 20% of the fund's 176 holdings were rated A-. None of SPXB's holdings exceed weights of 1.68%, implying an equal-weight strategy.
"Weighting issuers equally is one way to avoid overconcentration in issuers or sectors with the most debt, and this strategy is consistent with the goal of constructing a portfolio with better credit fundamentals," according to S&P Dow Jones.
For more on core investing strategies, please visit our Core ETF Channel.
---
Content continues below advertisement