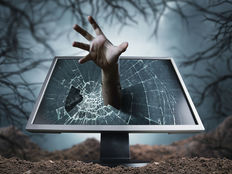 Recent market volatility is weighing on the technology sector and the related ETFs. For example, the iShares U.S. Technology ETF (IYW A) is lower by 1.6% this month, but some market observers believe investors don't need to be afraid of tech stocks.
IYW reflects the performance of the Dow Jones U.S. Information Technology Index, which includes all tech sector picks in the Dow Jones U.S. Index. Due to the Dow Jones' classification of information tech names, healthcare technology stocks may be included while payment technology stocks are excluded.
"Despite an abrupt and punishing market swoon that disproportionately punished more volatile sectors, technology is holding its own," said BlackRock in a recent note. "During the past month, the sector has outperformed by roughly 100 basis points (bps, or one percentage point). Even with the prospect for more volatility, investors may want to consider adding to rather than abandoning the sector."
While Treasury notes and precious metals are the default safe havens amid a raucous equities market, one stock analysts are loving is Apple. While the capital markets are getting roiled by volatility, Apple can help mute the impact of trade wars, according to some analysts.
Furthermore, this represents an opportunity for investors to get in on Apple stock while it's experiencing a pullback. In other words, there's some value to be had there. IYW allocates 15.29% of its weight to Apple (AAPL), making that stock the ETF's second-largest holding behind Microsoft (MSFT).
Premium Warranted For Tech
Technology looks somewhat pricey relative to the broader market, but those premium valuations are backed by sound fundamentals.
"To the extent tech does trade at a modest premium, it is because the sector is much more profitable than the broader market. The current return-on-equity (ROE) is approximately 34%, well above the post-crisis average and 18 percentage points above the broader S&P 500," according to BlackRock.
Related: Huawei Decision Could Pave Way for 5G ETF Gains
While the sector is facing some near-term headwinds, technology remains home to some of the most prodigious free cash flow generators in the U.S. and that is a factor for long-term investors to remember. Action in U.S. Treasuries also explains some of the valuation issues with tech.
"Growth companies command a larger premium when economic growth is likely to slow," according to BlackRock. "One manifestation of this phenomenon is the historically tight and negative relationship between the growth premium and the Treasury curve. A flatter curve, suggesting sluggish growth, has generally been associated with a higher growth premium."
This article was originally posted on ETFTrends.com.
---
Content continues below advertisement