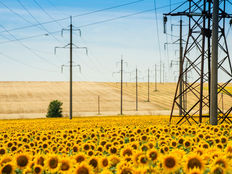 The Energy Select Sector SPDR (XLE A), the largest equity-based energy ETF, is clinging to a small year-to-date gain, reflecting the sector's status as a 2019 laggard, but some market observers believe there's value to be had in the energy patch. Plus, there's some optimism to go along with that outlook.
"At the sector level, analysts are most optimistic about the Energy (66%) sector, as this sector has the highest percentage of Buy ratings. It is interesting to note that the Energy sector is projected to report the largest earnings decline of all 11 sectors in CY 2019 (-20.9%) and the largest earnings growth of all 11 sectors in CY 2020 (30.2%)," said FactSet.
Analysts also expect the volume of U.S. crude oil in storage should diminish in the weeks ahead before reversing course at the end of peak driving season, along with the start of the seasonal refinery maintenance period.
"Oil markets tend toward short-term unpredictability, with the attack on a large Saudi facility providing a dose of drama in the third quarter. Longer-term, the economics of supply and demand continue to point to $55 per barrel (WTI), which would make most U.S. energy stocks attractive at today's share prices," said Morningstar in a recent note.
Evaluating Energy ETFs
The markets have been roiled by the U.S.-China trade war news, which looks like it could extend into extra innings. Furthermore, the bond markets were flashing recession signals from an inverted yield curve. However, many energy stocks have baked in these scenarios and currently look attractive on valuation.
Investors may want to focus on companies with exposure to U.S. shale formations as those firms bolster their balance sheets and contain costs.
"We see $55 as the fully loaded cost for the marginal barrel of oil that will balance global supply and demand in the long run," according to Morningstar. "We expect this marginal barrel to come from a U.S. shale well. Shale wells today are much cheaper on a per-barrel basis than the large, complex megaprojects that would have set prices in a world without U.S. shale. Over the long run, we think U.S. shale well cost inflation will remain subdued, owing greatly to the no-moat nature of many shale services, and that wider adoption of current technologies coupled with decades of attractive drilling opportunities will contain unit break-evens."
This article originally appeared on ETFTrends.com
---
Content continues below advertisement