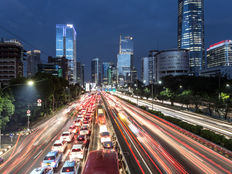 Data confirms that global dividend growth remains impressive, but it could be poised to slow a bit, prompting investors to emphasize strategies to focus on companies with the ability to hike payouts across a variety of macroeconomic environments.
"According to the latest edition of the Janus Henderson Global Dividend Index, global dividends in the July-September period totaled $355.3 billion, up 2.8% from a year earlier. In 2018's third quarter, however, dividends grew 4.4% year over year," reports Lawrence Strauss for Barron's.
For investors looking to access compelling valuations among emerging markets equities while getting the quality benefits of dividend growers, the ProShares MSCI Emerging Markets Dividend Growers ETF (EMDV ) is an ETF to consider.
EMDV follows the MSCI Emerging Markets Dividend Masters Index, which targets MSCI Emerging Market components that have increased dividend payments each year for at least seven consecutive years.
Emerging markets have always given investors another look at the global growth landscape, particularly since they could be in different economic phases—for example, the U.S. could be reaching a peak while an emerging market country could be in a growth acceleration phase. Adding dividends to the mix can reduce some of the volatility associated with assets in developing economies.
Evaluating EMDV
Companies that grew dividends outperformed companies that didn't. Companies that consistently grow their dividends tend to be high-quality with strong growth potential. These types of companies were able to withstand periods of market turmoil and still deliver strong returns with lower volatility.
In terms of third-quarter dividend growth, "emerging markets notched a 6.2% gain, helped by a large increase by Petrochina. Chinese dividends rose 3.7% year over year, but they would have been lower without Petrochina," according to Barron's.
With positive news thus far coming out of U.S.-China trade deal negotiations in the month of October, emerging markets are gaining once again after starting off 2019 with strength. Despite the recent spate of optimism, it's still necessary to take caution, especially when looking at the overall global landscape as geopolitical events will continue to drive the EM space.
Related: An Emerging Markets Rally Could be Brewing
China, the largest emerging markets dividend payer in dollar terms, accounts for 29.41% of EMDV's geographic weight, according to ProShares data.
EMDV holds 82 emerging markets stocks and trades at valuations discounts compared to major U.S. equity benchmarks.
This article originally appeared on ETFTrends.com.
---
Content continues below advertisement