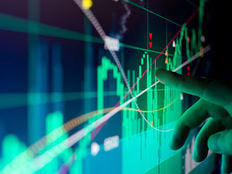 While the S&P 500 index is up 7% in June, it's fixed income ETFs that are on pace to set a new inflow record. With only a week left in June, fixed income ETFs have already attracted a record-breaking month-to-date inflow total of $22 billion – outpacing the previous record high of $17.5 billion in October of 2014.
"Given that flows into equities are $30 billion, investors are positioning as if this 'Bull Run' will continue at its current trajectory from ongoing easy monetary policy and fiscal policy around the globe … ," said Matthew Bartolini, Head of SPDR Americas Research at State Street Global Advisors.
Flows have been positive in every sub-sector State Street tracks except Senior Loans and Convertibles.
"However, the lion's share of the inflows have gone into the more interest rate sensitive sectors of the bond market (Gov't, Agg, IG Corp), as investors continue positioning for more episodic periods of volatility and seeking to mitigate the equity risk within the portfolio," said Bartolini.
"Government funds have $7 billion, led by ultra-short with $5 billion which equates to 15% of its start of month assets," he said. "The latter point underscores the desire to be defensive even with the market hitting all-time highs."
Bartolini noted that there has been revival of EM debt with the Fed leaning more dovish. In fact, there has been over a $1 billion into EM.
"This is a reversal of fortunes and predicated on the world turning dovish, as EM debt had its worst three and two month stretch coming into June," he said.
Fixed Income Portfolio Positioning
In today's environment, investors need to keep an on their equity beta within their fixed income portfolio.
"During periods of episodic micro-bursts of volatility investors need to ensure they can let bonds be bonds within portfolios – providing diversification, stability, and income," said Bartolini.
With the flat curve and late cycle, State Street favors active and shorter duration bond strategies, according to Bartolini.
"Notably, shorter- and intermediate-term investment-grade bonds have had smaller drawdowns in terms of magnitude, along with a low-to-negative beta to equity drawdowns and equity returns overall," he said. "Those areas also have an attractive yield-per-unit-of- duration profile, with short-duration investment-grade exposures nearly matching high yield."
The sweet spot may be in the 1-3 year corporate bond space.
"It provides a yield similar to aggregate bonds, but with far less duration and only 10 additional basis points of credit risk," Bartolini said, noting that this can be achieved via SPDR Portfolio Short Term Treasury ETF (SPSB A-).
He also brought attention to the SPDR Portfolio Intermediate Term Corporate Bond ETF (SPIB A-) for investors seeking a higher yield with a still-attractive yield-per-unit-of-duration profile. "The 1-10 year space may be a better option than broad corporates or other intermediate 5-10 year exposures."
For more investment strategies, visit our Core ETF Channel.
---
Content continues below advertisement