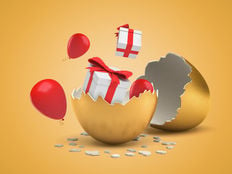 Income investors are searching for just that: income. And many are looking to do so with lower volatility. Some ETFs, including the Legg Mason Low-Volatility High-Dividend ETF (LVHD A), check both of those boxes.
The low volatility high dividend ETF should help investors who are seeking new sources of yield in a changing market environment. The funds focus on companies with relatively high yield and low price and earnings volatility, and the funds also target profitable companies.
"The Legg Mason Low Volatility High Dividend ETF quotes a 30-day yield of 3.50%, and its portfolio yield, based on the past 12 months of quarterly dividends, has been 3.69%, according to Morningstar. The ETF pays out all the dividends it receives, and its yield typically ranges between 3.5% and 4%," reports Philip Van Doorn for MarketWatch.
The volatility measure will look for price volatility based on the past 12 months of daily returns earnings volatility, along with 3 years realized and 2 years projected. Historical data suggest that over the long term, lower volatility stocks offer better risk-adjusted returns than their more volatile counterparts.
Loving LVHD
LVHD "is constructed of the highest-scoring securities subject to concentration limits: no individual component of the Index will exceed 2.5 percent, no individual sector (as defined by QS) will exceed 25 percent, and real estate investment trust ("REIT") components as a whole will not exceed 15 percent. The number of component securities in the Index is anticipated to range from 50 to 100," according to Legg Mason.
The profitability screen filters stocks that have been profitable over the last four quarters and are projected to remain profitable over the next four quarters, so companies will have the earnings power to support their dividends.
High dividend-paying companies are typically associated with heightened risk as some are concerned that these companies may find it hard to maintain their elevated levels of dividend handouts. However, a low-volatility theme may help diminish the oscillations associated with this riskier segment of the market.
Related:Diversification Worth Its Weight in Gold
"The QS Investors team screens the stocks to arrive at a list of 50 to 100 companies that have been consistently high dividend payers while making sure the payouts don't exceed earnings, or, in the case of real-estate investment trusts, cash flow," according to MarketWatch. "They look ahead, using consensus estimates, to try to screen out companies facing problems."
Up 16.53% year-to-date, LVHD allocates about 57% of its combined weight to the utilities, real estate, and consumer staples sectors.
This article originally appeared on ETFTrends.com
---
Content continues below advertisement