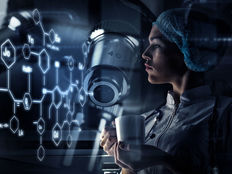 The SPDR Health Care ETF (XLV A), the largest healthcare ETF by assets, and rival healthcare have been laggards this year, but in recent weeks, the S&P 500's second-largest sector weight has been finding its groove and a big part of that resurgence has been diminished political risk.
Among other factors, XLV and friends have been dogged this year by speculation that Medicare For All could become a reality if Democrats win the White House in 2020. Many of the most visible Democratic contenders for that party's 2020 presidential nomination are embracing Medicare For All. However, XLV's recent price action suggests the benchmark healthcare ETF is shaking out of its slumber.
Healthcare stocks, at least for now, have appeared to shake out of the politically-induced doldrums seen earlier this year and XLV's compelling growth/value mix could prove attractive over the near-term. However, some market observers believe the sector isn't risk-free with a presidential election year looming in 2020.
"Demand drivers for US healthcare will remain intact in 2020 with most companies managing profitability pressures but headline risk remains," said Fitch Ratings in a recent note. "Headline risk will be high due to the overhang of opioid litigation liabilities, Affordable Care Act (ACA) court decisions and election rhetoric. Business models may continue to evolve given the slowly changing payment landscape."
A Familiar Debate
While many of the blue-chip pharmaceuticals names dwelling in XLV either face little or no opioid litigation risk or have the balance sheets to deal with that issue, the Medicare For All Debate could return, potentially hampering recently resurgent managed care providers and ETFs such as the iShares U.S. Healthcare Providers ETF (IHF B+).
IHF is a traditional index fund that targets U.S. equities in the healthcare providers sector. Specifically, the ETF provides exposure to U.S. companies from health insurance, diagnostics, and specialized treatment.
"Stalled progress on major pieces of healthcare legislation, due to political discord in Washington, will insulate issuers from the effects of any new policy measures on profitability during 2020," according to Fitch. "However, we expect healthcare to be one of the most important policy issues for voters in the 2020 Presidential election. Leading up to the Democratic primary, the issue of access and affordability is being hotly debated but, even if a Democrat wins, there is likely only an outside chance of policy change having dramatic implications for profitability."
This article originally appeared on ETFTrends.com.
---
Content continues below advertisement