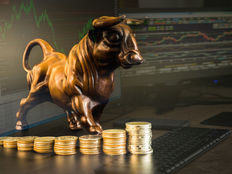 EFAD tracks the MSCI EAFE Dividend Masters Index, which includes members of the MSCI EAFE Index that have dividend increase streaks of at least 10 consecutive years.
EFAD may help investors gain improved risk-adjusted returns to European markets by diminishing downside risk while still participating in upside potential. Furthermore, its dividend focus also helps investors focus on quality companies with a history of growing dividends. There are good reasons to consider EFAD over a traditional, broad developed markets ETF.
"Strong global dividend growth continued in the first quarter of 2019, helped by record payouts in the U.S. and Canada, according to a new survey," reports Lawrence Strauss for Barron's. "The quarterly Janus Henderson survey of dividends, released Monday, found that payouts rose by 7.8%, just as they did in first quarter of 2018."
Evaluating EFAD ETF
Stocks in Europe and in international developed markets often have higher yields than those in the U.S. That means it's possible to take advantage of a dividend growth strategy and relatively high dividend yields. International dividend growth stocks also come without the added U.S. interest rate sensitivity of high dividend paying stocks.
"Dividends grew in all developed markets during the first three months of the year, with Europe—excluding the U.K.—up 9.2% year overyear. Japan gained 5.7%, and North America was up 8.1%," according to Barron's. "In Europe, however, 'the first quarter sees relatively few dividends paid,' Janus Henderson said. Many companies based there pay dividends once or twice a year."
The U.K. is EFAD's largest geographic weight at 23.81%. Japan and Australia combine for a quarter of the fund's weight.
"Dividends in the U.K. rose by 10.5%, and by almost 15% in the Asia-Pacific region," according to Barron's.
EFAD is up 9.24% year-to-date and has a dividend yield of 2.19%.
For more on core investing strategies, visit our Core ETF Channel.
---
Content continues below advertisement