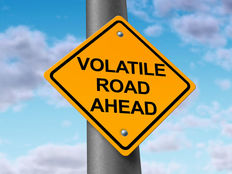 With volatility picking up in the markets in the past few weeks, many investors are discussing how to best invest in the late-stage market cycle.
On a Charles Schwab hosted media call on Friday, Heather Fischer, Vice President of Mutual Fund and ETF platforms, offered her thoughts on what investors have shared about their expectations for volatility, as well the impact it could have on the ETF industry.
Referencing Schwab's annual investor survey that was released in May, Fischer explained how 61% of investors believed volatility would increase in the next six months. Additionally, 44% said they would put more money into ETFs as a result. So even before recent market moves, 51% of survey respondents said they increased allocation to ETFs in the past six months as a result of increased market volatility.
"In fact, among the investors that say they are expecting volatility, 73% expect to increase their ETF investments in the next year," Fischer went on to say. "And 37% will consider placing their entire investment portfolio, excluding cash, into ETFs in the next year."
Considering the reasons why, Fisher noted how they've continually found that ETFs serve as the foundation of a portfolio and as a vehicle that enables investors to be very flexible, which is critically important in times like this.
"ETFs are a tool that investors naturally turn to in these kinds of times," she said.
How Schwab is Adapting To Volatility
When asked how recent volatility may have changed Schwab's platform, Fischer was able to discuss recent fund flow data. Having looked at a comparison between two weeks' flows, the week July 29th (relatively light on market changes) and the week of August 5th (considerably more reactive to volatility), some interesting analysis came to light.
Based on those periods, flows were up week over week, with one of the biggest jumps coming from US equities. Another major trend during market volatility was in commodities, which resulted in all positive flows.
There were some interesting differences during that week of substantial market volatility as well. The RIA client outpaced retail clients by quite a bit when it came to flows into US equity. The opposite was true for commodity ETF flows.
Related: More Volatility Ahead? Traders Are Betting On It
Regarding what kind of flows had gone into fixed-income ETFs over the past few months, Fischer made it clear there's been quite a bit of a downturn in fixed-income ETFs over the past year. By the end of July 2018, it was up to nearly $8.8 billion in inflows on their platform. Through July 2019, their a little under with only $7.7 billion inflows.
It comes down to familiar trends when dealing with recent volatility. However, there is a larger appetite in fixed-income among RIA clients vs. retail clients, regardless of volatility. RIA flows accounted for more than half of all fixed-income flows during the relatively volatile week.
This article originally appeared on ETFTrends.com.
---
Content continues below advertisement