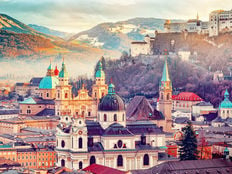 The iShares MSCI EMU ETF (EZU B+), which focuses on Eurozone economies, has been a solid performer this year, but its nearly 14% year-to-date gain lags the returns offered by major U.S. equity benchmarks.
Europe's equities also look more attractive, with valuations of European and U.S. equities exhibiting their widest divergence since the end of 2016 on certain measures. According to FactSet data, the Stoxx Europe 600 was trading at 14 times forecast earnings, compared to the S&P 500's 17 times, which represent a wider gap than its long-term average over the past decade.
While Eurozone equities have lagged their U.S. counterparts for some time, some analysts believe the situation could be poised to reverse.
"Analysts at JPMorgan say there's a tactical window of opportunity for the eurozone as they upgraded stocks on the Continent to overweight from neutral — and downgraded U.S. equities to neutral from overweight," reports Steve Goldstein for MarketWatch.
Attractive Valuations
European markets have been mired by political risks surrounding Brexit, government finances in Italy and weak German growth. Additionally, talks of a new tariff spate with the U.S. also dampened investors' moods. EZU allocates nearly 62% of its combined weight to France and Germany, the Eurozone's two largest economies.
Some data points suggest that European equities are under-owned by global investors, but the asset class is certainly inexpensive.
"Eurozone sector price-to-earnings ratios are 'close to outright' cheap territory. While the economy has been, yes, poor, the JPMorgan analysts say the M1 measure of money supply has been improving, which tends to lead purchasing managers index readings by two to three quarters," according to MarketWatch.
Related: European Survey Highlights Increasing ETF Usage
Investors may want to look back into Europe region-related ETFs as some of the bumps are smoothed out. Plus, many Europe ETFs are home to multi-national companies that are not heavily reliant on local economies to drive returns, meaning these funds can still perform even if some regions in Europe see economic softness.
"Given the current activity weakness, Brexit and trade uncertainty, and the mounting political pressures on core Europe from anti-establishment, we think that it might not take much for some encouraging news on this front," said the JPMorgan analysts.
This article originally appeared on ETFTrends.com
---
Content continues below advertisement