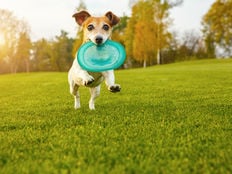 The ProShares Pet Care ETF (PAWZ B-), the first and still the only dedicated pet care ETF, has plenty of favorable tailwinds. Another one may be arriving in the form of regulatory approval of Simparica Trio, a canine drug made by PAWZ holding Zoetis (NYSE: ZTS).
Shares of Zoetis accounted for nearly 3% of the PAWZ roster at the end of the second quarter, according to ProShares data.
PAWZ includes sectors such as veterinary pharmaceuticals, diagnostics, services, and product distributors; pet and pet supply stores, and pet food and supply manufacturing. Healthcare and retail stocks make up a significant portion of the PAWZ roster and the ProShares ETF is topping both standard healthcare and retail ETFs this year.
"Goldman Sachs initiated coverage of the animal-health industry on Monday, rating Zoetis (ticker: ZTS) a Buy. It cited the expected introduction of Simparica Trio, which is under regulatory review in the U.S., Canada, Brazil, Australia, and Japan, as a reason for the rating," reports Lawrence Strauss for Barron's.
Compelling Data
The new drug could be meaningful for Zoetis' bottom line and that could provide some benefit to PAWZ.
"Our upside case for Simparica Trio sees potential for $1.36 [billion]of revenue in 2022 and $1.14 of incremental EPS (net of cannibalization)," according to Goldman Sachs.
Even if Simparica Trio is pricey, as many pet medications are, that's unlikely to keep dog owners from paying for the drug.
"Pet care spending in the U.S. has seen twice the percentage growth of GDP since 2007, and kept growing through the Great Recession," said Simeon Hyman, global investment strategist at ProShares. "According to a recent Harris Poll, 95% of pet owners consider their pets part of the family.
Related: Data Bodes Well For Powerful Pet Care ETF
Data confirm that the veterinary care and the healthcare aspect of pet ownership are major revenue drivers for companies with exposure to those themes.
"It is estimated that more than $18 billion was spent on veterinary care in 2018, giving rise to an increase in pet insurance policies," said Hyman. "In North America, private health insurance was purchased for more than two million animals in 2017, generating over $1 billion in premiums."
This article originally appeared on ETFTrends.com.
---
Content continues below advertisement