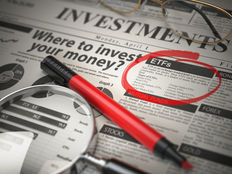 As head of ETF business at the NYSE, Doug Yones has many insights into the astonishing inflows in bond ETFs, as well as the somewhat minor inflows into equity ETFs, plus other exciting news.
He notes that it's indeed been a great year, with flows coming close to record numbers. However, the fixed income story is still in the earliest of early stages. Over $83 billion is coming into these funds, and it's not some sort of loss from somewhere else.
Instead, this is just the result of actions taken by adopters of the ETF strategy. These people want the liquidity, diversification, and ease of use. So, instead of choosing a mutual fund, they're coming to the exchanges and buying the ETF.
With roughly $4 trillion in assets that has come from ETFs, and over 2,000 ETFs currently in existence and growing, there's still a lot of opportunity out there. As Yones explains, as people come to the industry questioning if there are any new ways to divide things up, and he offers examples such as real estate, or server farms, both of which can find ways to build into new ETFs. It's a unique landscape for sure, with various ways to divide up the market, most certainly including ETFs.
In regards to the growing levels of interest, the money is finally following. As Yones tells it, as much talk as there may have been concerning the environmental sector without actually investing, the two biggest launches in perhaps a decade have been in the ESG space this year. Whether the cause is a change in investor dynamic or a shift in the product line, the money is finally flowing in.
Speaking to the topic of pension funds possibly facing troubles by ignoring or excluding companies that may not fit under an ESG screen, Yones had a take on the thought. From an ETF standpoint, the new ones coming in have found way to neutralize certain exposed sectors based on whatever reasons are deemed fit. However, by committing to such a process, it is still possible to bring back some of those returns.
On another topic, Yones addressed a question concerning the trading of ETFs of the NYSE floor. Apparently, a program is getting ready to roll out in the next couple of months that will bring ETFs back down to the floor with allow for a more human element to be involved with trading ETFs. By doing this, the power and magnitude of the floor will be able to help with liquidity, and ideally reduce volatility.
Switching to a final topic regarding non-transparent ETFs, Yones explains why the ETF industry "is in a watershed moment." With around $17 trillion in actively managed funds that have not been able to access the ETF market unless the star manager is willing to show the full portfolio. Non-transparent ETFs would change that, expanding the state of ETFs dramatically.
Watch Doug Yones on CNBC here:
For more market news and updates, visit ETFdb.
---
Content continues below advertisement