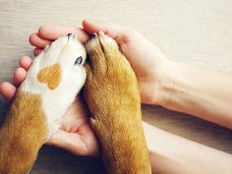 Even when a cat uses someone's lap as a makeshift mattress while trying to get work done or if a German shepherd tears through a favorite pair of slippers, they'll still get the affection and attention from a loving pet owner. As such, the pet care industry is big, booming and rife with future innovation, which could further fuel the ProShares Pet Care ETF (PAWZ B-).
Events like the Pet Innovation Challenge, which will take place on Oct. 2 and 3 in Bethlehem, PA, speak to how major players in the industry are jockeying for top position in a growing space. For example, the first day will feature a sales pitch competition that gives startup companies the chance to tout their product or service.
Companies featured will include the following, per Lehigh Valley Business:
Animal Biome, microbiome testing and supplements for health and wellness.
Because Animals, a biotechnology company creating pet food made with cultured meat.
Chippin, the "Beyond Meat of Pet Food."
Hachi Tami, a smart-cat litter box that offers early detection of chronic kidney disease.
Jiminy's, dog food and treats using insect protein.
Maranda, veterinary-approved lab tests from home.
Mella Petcare, a first-generation thermometer that allows non-rectal temperature readings.
Obe, a patented pet health and wellness system using smart technology for personalized dog wellness and nutrition.
Primal Health, a patented, clinically-proven drinkable dental prebiotic.
Shameless Pets, the first brand to focus on upcycling within pet treats.
"What we're trying to do here is bring together innovators and experts in the industry to share challenges they are facing and match them with solutions," said Tara Ortiz, director of entrepreneurial engagement for The Factory.
Why all the fanfare in the pet industry? It might be helpful to digest the hype by looking at some useful numbers: ProShares posits that the pet care industry could reach $203 billion in global sales by the year 2025, and it has grown consistently every year since 2001.
In essence, like wild rabbits in a field, even the Great Recession couldn't stop the pet care industry from multiplying. Moreover, it's an industry where owners ensure their pets are receiving the best of the best—per ProShares, "seven out of 10 U.S. households today have pets, more than have children, and owners are providing pets with premium foods, luxury services, state-of-the-art health care, insurance policies and more."
As for the fund itself, PAWZ seeks investment results that track the performance of the FactSet Pet Care Index. The index consists of U.S. and non-U.S. companies that potentially stand to benefit from interest in, and resources spent on, pet ownership.
While the majority of investors have been scurrying off into safe havens like bonds amid the latest market volatility, PAWZ has been providing investors with a 10.95% gain year-to-date, according to Yahoo Finance. That type of consistent performance certainly makes PAWZ, the first fund to cater to the pet care industry, something that any investor can vet.
This article originally appeared on ETFTrends.com
---
Content continues below advertisement