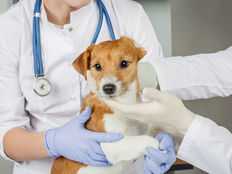 The ProShares Pet Care ETF (PAWZ B-), the first and still the only dedicated pet care ETF, has an increasingly compelling investment thesis, one that is bolstered by a variety of companies and factors.
PAWZ includes sectors such as veterinary pharmaceuticals, diagnostics, services, and product distributors; pet and pet supply stores, and pet food and supply manufacturing. Healthcare and retail stocks make up a significant portion of the PAWZ roster and the ProShares ETF is topping both standard healthcare and retail ETFs this year. The time is right to consider PAWZ.
"The last week of September is National Dog Week, and 63 million U.S. households own a dog, led by the largest pet-owning demographic: Millennials. In fact, 80% of Millennial pet owners own a dog," said Simeon Hyman, global investment strategist at ProShares in a recent note.
Beyond National Dog Week, there are other compelling data points backing PAWZ.
"Dog owners increasingly treat their animal companions like members of the family—one of the drivers that has seen the pet care business experience twice the percentage growth of GDP in the U.S. since 2007, including through the Great Recession. And industry insiders don't see any signs that pet owners will become any less willing to open their pocketbooks on pet care," according to Hyman.
PAWZ Power
At the end of the first quarter, more than half of the components in PAWZ were veterinary pharmaceuticals makers, veterinary diagnostics companies or distributors of veterinary supplies and products. Pet care insurance is another somewhat under-appreciated catalyst for PAWZ.
"[D]efinitely pet owners are also now buying animal health medicines through these new channels, mainly for medicines for chronic treatment and parasiticides," said Zoetis CEO Juan Ramon Alaix. "[W]e think that this can definitely be a positive for the animal health industry."
PAWZ is also highly levered to the booming online retail side of the pet care business.
Another stock that could buoy PAWZ is Chewy Inc (CHWY), a subsidiary of PetSmart, which joined the ETF in June.
Chewy has "more than 45,000 products available, provides cost-effective overnight delivery of pet supplies to approximately 80% of the United States (~100% in two days) through seven fulfillment centers," according to ProShares.
Related: New Zoetis Drug Could Could Provide a Boost to Pet Care ETF
FreshPet Inc. (FRPT) is another PAWZ holding with interesting long-term potential. That company is a leader in the fresh pet food category.
FreshPet "products distributed in over 10,000 stores in North America, including natural food retailers, pet specialty stores and major retailers," notes ProShares.
This article originally appeared on ETFTrends.com
---
Content continues below advertisement