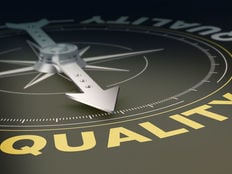 The iShares Edge MSCI USA Quality Factor ETF (QUAL A-) is up nearly 18% year-to-date, reflecting the strength of the quality factor in a rocky market environment.
QUAL seeks to track the investment results of the MSCI USA Sector Neutral Quality Index composed of U.S. large- and mid-capitalization stocks with quality characteristics as identified through certain fundamental metrics. Quality isn't low volatility, but the former does have a way of reducing portfolios volatility during turbulent times.
Quality should not be conflated with low volatility, but there are times when quality stocks display low volatility traits. That was the case during the fourth quarter of last year market swoon, indicating that the quality factor can provide some protection during times of elevated market stress.
"The VIX index, a common measure of stock market volatility, rose from a sedate average of 13 in July to nearly 20 in the first half of August," said BlackRock in a recent note. "We find companies displaying quality characteristics such as strength in balance sheets and free cash flow are better able to weather such bouts."
Quality For The Long-Term
Historical data indicate the quality factor is a winner over long holdings periods.
"While the current moment argues well for quality, I have found it to be a worthy proposition from a long-term risk/reward perspective regardless of the environment," according to BlackRock. "Yes, there are times when it will work less well: Quality tends to underperform in sharply rising markets, such as when the economy is coming out of a recession. At times like these, riskier lower-quality companies with higher leverage tend to outperform as they surge from their beaten-down state."
QUAL holds 125 stocks, over 23% of which are from the technology sector. The healthcare and financial services sectors combine for almost 26% of the ETF's weight.
Related: Don't Forget to Add a Dash of Quality to Your Portfolio
To the point of volatility, QUAL's three-year standard deviation is a tolerable 12.31%.
"Quality stocks particularly stand out today," said BlackRock. "The fact that we are late-cycle and markets are being rocked by U.S.-China trade noise and the vagaries of an election cycle tells me we may be in for a continued period of heightened volatility. A focus on quality stocks can allow investors to stay in the market to benefit from potential upturns, but with a measure of prudence built in to buffer downturns."
---
Content continues below advertisement