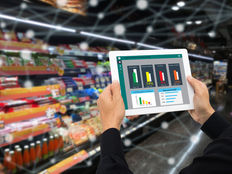 The threat of Chinese tariffs has made their impact on retailers. However, CNBC's Courtney Reagan points out some of the potential names worth looking into, as far as investors are concerned.
As Reagan notes, the trade war has hit retail stocks hard, but quick sell-offs have not kept evaluations depressed for all retail names. It stands to reason that calmer trades prevailing allow a better understanding of which retailers can hold on well enough.
"In fact, for some stocks, the worst may be behind us," Reagan points out, noting where things were with the SPDR S&P Retail ETF (XRT B+) back in May, compared to what's going on now.
It took a big leg down back then after trade talks between the US and China broke down, and the third list of tariffs increased from 10% to 25%. Things rebounded in early June but then broke down last week, which we covered extensively when President Trump said a 10% tariff would be implemented on the final $300 billion worth of Chinese-made goods on Sept. 1.
Reagan continues to explain how the XRT is down more than 12% since May, "But a number of retailers are higher than that previous high point." This could be suggesting a near-term floor for some. Reagan points out the upward trends of Costco (COST) Ross Stores Inc. (ROST), and Target Corporation (TGT), as examples.
Of course, there is still the chance this could all change, depending on what retailers report this week and next, with investors placing intense focus on commentary over tariff risk. Macy's Inc (M) became the key example here.
According to Reagan, Macy's CEO Jeff Gannett's made it clear how the impact of tariffs being levied on the remaining $300 billion of goods, "Would really impact our categories," and that "When you do the math, it is hard to find a path through that that wouldn't impact customers." That, of course, means higher prices.
One final thing pointed out is minimal foreign exposure. Reagan reasons how that's a part of the point. The big tariff headlines lead to entire groups selling off quick. However, things start to calm down, and traders and investors begin doing the research and realize the disparity between retailers and what to focus on given the differences in tariff risk.
Watch The Full Retail Report:
---
Content continues below advertisement