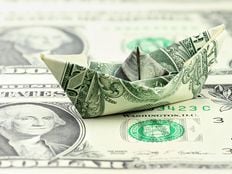 UUP, the largest ETF dedicated to tracking the dollar's move against major currencies, seeks to establish long positions in ICE U.S. Dollar Index futures contracts with a view to tracking the changes, whether positive or negative, in the level of the Deutsche Bank Long USD Currency Portfolio Index — Excess ReturnTM over time, plus the excess, if any, of the sum of the fund's Treasury Income, Money Market Income and T-Bill ETF Income over the expenses of the fund. The fund invests in futures contracts in an attempt to track its index. The index is calculated to reflect the changes in market value over time, whether positive or negative, of long positions in DX Contracts.
"The bullish greenback tracker has been trending steadily higher all year long, boosted by the double-barreled support of its 80-day and 160-day moving averages," according to Schaeffer's Investment Research. "Previously, this trendline pair had acted as resistance to guide UUP lower during its lengthy decline off that January 2017 high — a long-term slump that ultimately persisted well into the second quarter of calendar year 2018."
Timing Is Everything for U.S. Dollar
Dollar strength comes even as the Federal Reserve has alluded to more rate cuts later this year after the central bank dropped borrowing costs by 25 basis points last month.
While the expectation was that the dollar would weaken this year, there have been plenty of catalysts to boost the greenback. As has been seen in the past, the strong dollar can be a headwind for investors. Still, data indicate traders aren't betting on more upside for UUP.
Relative: Currency ETFs Reflect Fallout of Escalating Trade War
"Meanwhile, traders have reacted coolly to the rise of the bullish dollar play, with etf.com reporting net outflows of $83.18 million for UUP since mid-April — right around the time the fund was finally putting some real distance between itself and former resistance at $26. For a fund with assets under management (AUM) of $307.14 million, that's a non-trivial amount of capital yanked from UUP simultaneous with its rally gaining wheels," according to Schaeffer's.
For more market trends, visit ETFdb.com.
---
Content continues below advertisement