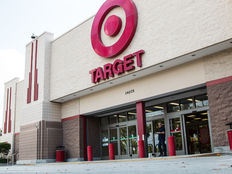 Just as many investors and experts have been ringing the warning bells of a recession due to a weak economy that is unable to deal with the trade war and looming tariffs, Target (TGT) comes out with electrifying second-quarter earnings, shocking everyone.
With the doom and gloom backdrop in full display on Wall Street over the past two months, it is no small surprise Target's stock spiked 19% to a record on Wednesday following a blowout quarter. Target trounced many of those dire retail narratives, which claimed that Amazon would dominate any brick and mortar retail stores.
Target reported second-quarter adjusted earnings of $1.82 a share, crushing forecasts for $1.62 a share. Same-store sales rose 3.4%, ahead of estimates for 3% growth.
Target's success boils down to the eighth-largest retailer in the United States offering more services to shoppers such as order online, pick up in-store the same-day and buy online, and then delivering it the same-day via its Shipt business.
"Target has done a real good job building a strong omnichannel business model and engaging the customer," veteran retail analyst Janet Kloppenburg of JJK Research said on Yahoo Finance's The First Trade. "They are flexing their muscles in some key categories such as apparel and beauty, which are outpacing the average comparable store sales from the company. They have also done an excellent job in other omnichannel services and fulfillment."
Target CEO Brian Cornell still believes the U.S. consumer is strong and investing in the economy, despite fears that some shoppers may be retracting on account of the threat of another economic recession looming.
In a meeting with media members, Cornell said, Target CFO "Cathy [Smith] and I —we meet with our banking partners, economists regularly, and as I have said for some time now, we continue to see a healthy consumer environment."
"Consumer confidence remains strong, there's been a reduction in fuel prices which we think is important for consumers, unemployment remains low and wages are growing," Cornell added. "We see a stable and healthy consumer environment visiting our stores and [web]site more often."
On Monday the SPDR S&P Retail ETF (XRT B+) was up over 1% today, although still down 8% for the month.
"I think what we've learned is that the consumer is definitely hanging in there. As we've talked for the past couple of years there are the have not's. There are the retailers that are driving traffic, that's target Walmart (WMT), TJ Maxx (THE), Ulta (ULTA), which you were just talking about, cosmetics with Estée Lauder (EL) and the selfie generation, And of course there are the department stores and the specialty retailers that really have a lot of self inflicted pain here. But the consumers remain strong. Clearly there are increased signs of potential issues ahead. But for now the numbers look good," said "Stacey Widlitz, S.W. Retail Advisors president on CNBC.
This article originally appeared on ETFTrends.com.