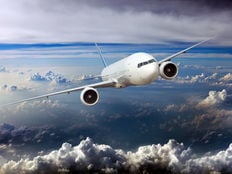 The SPDR S&P Aerospace & Defense ETF (XAR A-) is on a torrid pace, gaining nearly 3% this week and almost 6% this month.
XAR seeks to provide investment results that correspond generally to the total return performance of the S&P Aerospace & Defense Select Industry Index, which represents the aerospace and defense segment of the S&P Total Market Index ("S&P TMI"). In seeking to track the performance of the S&P Aerospace & Defense Select Industry Index (the "index"), the fund employs a sampling strategy.
As an equal-weight ETF, XAR is not as dependent just Boeing and United Technologies (UTX) as are its cap-weighted rivals. In fact, some traders believe other XAR components beyond Boeing are currently worth watching.
"Two XAR components that are worth watching are Northrop Grumman Corporation (NOC) and Lockheed Martin Corporation (LMT), both of which are trading near new highs while implied volatilities are at historic lows. This combination has been bullish for the defense stocks in the past, suggesting more upside could be in store for NOC and LMT," according to Schaeffer's Investment Research.
More Near-Term Upside
That could portend more near-term upside for those defense giants and in turn for XAR, a fund that's already up about 41% this year.
"According to data from Schaeffer's Senior Quantitative Analyst Rocky White, there have been eight times in the past five years when NOC stock was trading within 2% of its 52-week high, while its Schaeffer's Volatility Index (SVI) ranked in the 20th annual percentile or lower — as is Northrop Grumman's SVI of 22%," notes Schaeffer's.
The Federal Reserve's recent interest rate cut could be a boost for defense names because industrials usually benefit from lower rates. Some of the sectors likely to receive a boost after the Fed starts cutting rates include Materials, Industrials, Consumer Discretionary, and Consumer Staples.
Related: UFO ETF – Invest In Emerging Space Industries
Historical data confirm shares of NOC are definitely worth watching over the near-term.
"One month after these previous signals, NOC stock was up 2.8%, with 63% of the returns positive. Another move of this magnitude would put the security near $384 — above its Aug. 13 all-time peak at $377.34 — based on its current perch at $374.14. The equity is already up 52.4% year-to-date, and recently took a sharp bounce off its rising 40-day moving average," notes Schaeffer's.
This article originally appeared on ETFTrends.com
---
Content continues below advertisement