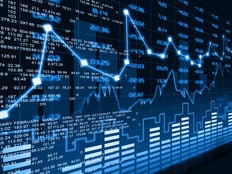 U.S. markets are testing all-time highs once again this week amidst optimism that a phase one trade deal will be completed.
These strong moves follow from the market's pullback last week, with the S&P 500 breaking a six-week winning streak. The Dow last week fell for the first week in over a month, while the Nasdaq broke a seven-week run.
The SPDR S&P 500 ETF Trust (SPY A) is up over 0.5% today, while the Invesco QQQ Trust (QQQ A-) climbed almost 1%, and the SPDR Dow Jones Industrial Average ETF (DIA A-) rallied 0.4%.
President Donald Trump was elated over the latest marker moves, taking credit as usual and tweeting, "Enjoy!"
Tech, led by Nvidia (NVDA), was the best-performing sector in the S&P 500, climbing 1.2%. Nvidia urged the sector to a 4.2% gain. Meanwhile, Intel's (INTC) 1.6% rally pushed the Dow higher, while the Nasdaq got a 1% boost from Apple (AAPL) shares, as Amazon (AMZN) traded 1.6% higher.
"The market still expects a phase one deal that (most importantly) removes the threat of any further escalation in the trade war," said Tom Essaye, founder of The Sevens Report, in a note. "But unless there is a material positive surprise, phase one is not going to include material existing tariff reductions (there might be some, but likely not much), and as such it's unclear exactly how much it'll help global growth rebound."
Late last week President Donald Trump stated that a trade deal was "potentially very close", further adding to optimism after President Xi Jinping said Beijing wanted to work out an initial agreement, Reuters reports. The turnaround helped ease concerns from earlier in the week as markets feared a truce could be delayed to 2020.
"Deal means actual hard facts and so even if people meet and get together and talk a little bit more, we don't see anything substantial happening," Jeanette Garretty, managing director & principal at Robertson Stephens Wealth Management, told Reuters.
Companies and investors in on both sides are cheering the culmination of a trade deal, as it will potentially offer more security and bring an end to the damage being done to China's economy, while removing tariffs which hurt both sides.
"It's clear-cut that a deal can help China," Salman Ahmed, chief investment strategist at Lombard Odier Investment Managers, told the WSJ. "Under the hood, we can see the damage being done to its economy."
This article originally appeared on ETFTrends.com.
---
Content continues below advertisement