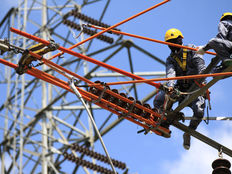 Entering Tuesday, the Utilities Select Sector SPDR (XLU A), the largest utilities sector ETF, was up nearly 21% year-to-date after hitting another record high on Monday. All XLU did Tuesday added to those gains on its way to another all-time high.
The utilities sector is one of this year's best-performing groups, underscoring the notion that many investors will embrace utilities stocks and ETFs during favorable interest rate environments. The Federal Reserve recently obliged by lowering interest rates last week for the second time this year and another rate cut is possible before the end of this year.
XLU has a dividend yield, which is highly attractive relative to the S&P 500 and 10-year Treasuries, in part explaining why investors are fawning over the sector in 2019.
"It's not a surprise that investors are fond of utilities," reports Ben Levisohn for Barron's. "As a source of income, they do well when Treasury yields are falling, and that's been the story for yields in 2019, the recent rise notwithstanding. Investors also like utilities for the fact that they have slow, predictable earnings, a great thing to have if you expect a recession in the future. And many people do
What's Next
Investors who are looking for companies to invest in that carry minimal risk will often consider utility stocks. Utility companies typically comprise the most fundamental necessities, such as food, water, and shelter, or are closely related to the energy required to refrigerate food, heat up water and light up a house.
At a time when some sectors are being slammed due to the re-emergence of trade tensions between the U.S. and China, utilities stocks hold some allure for investors because the sector generates nearly all of its revenue on a domestic basis. S&P 500 utilities companies, on average, depend on the U.S. for 95% of their revenue.
"With the Fed cutting rates again this week and the 10-year yield at 1.78% [now 1.71%], utilities continue to perform well, despite NT headwinds as broader momentum trades reversed slightly," according to Goldman Sachs' Neil Mehta, reports Barron's.
Year-to-date, investors have added $653.22 million to XLU.
This article originally appeared on ETFTrends.com
---
Content continues below advertisement