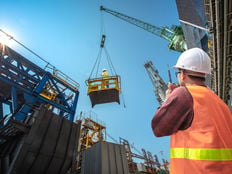 The ProShares S&P 500 Aristocrats ETF (NOBL A-) is up about 4.50% this month, an impressive run for the dividend ETF and one reason for NOBL's recent momentum may be the resurgence of value stocks.
NOBL tracks the S&P 500 Dividend Aristocrats Index, targets the cream of the crop, only selecting components that have increased their dividends for at least 25 consecutive years. Consequently, investors are left with a portfolio of high-quality, sustainable dividend payers.
The extended bull run the past decade saw growth stocks sprint past their value counterparts as investors piled their capital on growth-oriented equities like technology. However, that could all be changing and the current state of the market could reveal that a value comeback is on the horizon.
Value stocks tend to trade at a lower price relative to their fundamentals (including dividends, earnings, and sales). While they generally have solid fundamentals, value stocks may have lost popularity in the market and are considered bargain priced compared with their competitors.
"The recent rebound in value investing strategies, which have lagged behind growth strategies for many years, has been a tailwind for many dividend stocks," reports Lawrence Stauss for Barron's.
A NOBL Value Proposition
NOBL has credibility as a value play. For example, the ETF allocates nearly 23% of its combined weight to the financial services and healthcare sectors, two groups viewed as value plays in the current environment.
Adding to the case for NOBL is that, although government bond yields are declining, dividend growth strategies are beating their high-yield rivals this year.
"But dividend stocks of all stripes have become more attractive compared with bonds. Lower bond yields are often a tailwind for dividend stocks because there is less competition for income," according to Barron's.
Related: Inside The Virtues of Dividend Growth With NOBL
The value factor has been a laggard over the course of much of this bull market, prompting speculation as to when value stocks will again be in style.
During periods of accelerating growth, asset categories including value, small-cap and cyclical stocks that exhibit high levels of business leverage and needed access to credit tend to outperform.
This article originally appeared on ETFTrends.com
---
Content continues below advertisement