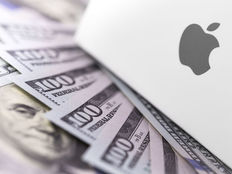 Heading into last Wednesday's after-the-bell earnings report, Apple was up almost 14% this month and the stock recently rejoined the $1 trillion market capitalization club, one populated by just itself and Microsoft. In October, Apple is the second-best performer in the Dow, trailing only resurgent UnitedHealth (UNH).
However, some data points indicate investors may want to tread carefully with DIA due to recent action in Apple and Microsoft.
"Thanks to its latest surge higher on the charts, Apple has finally recovered some of the ground it lost during last year's brutal fourth-quarter sell-off — on a relative-strength basis, that is," according to Schaeffer's Investment Research. "As of Sept. 30, AAPL had a one-year relative-strength reading of -2.44% versus the broader Dow, while MSFT was at +19.26% against their parent index for the same time frame. But it was just a few trading days later, on Oct. 4, that Apple's one-year relative strength reading vs. the Dow finally moved into positive territory, arriving at 0.73% — and this reading has since accelerated to its current perch of 3.18%."
What Will An AAPL A Day Get You
The better-than-expected corporate earnings season has also helped support ongoing strength in the equities market. Over 78% of the 204 S&P 500 companies reported so far have surpassed profit expectations, according to Refinitiv data. Nevertheless, S&P 500 company earnings are projected to dip 2%, but excluding the energy sector, the group's earnings are forecast to rise by 0.5%.
Still, investors should note Apple's recent out-performance of Microsoft.
"Since Apple joined the Dow over five years ago, it's been extremely rare for the iPhone stock to show up Microsoft on the charts by such a wide margin over such a tight time frame. According to Schaeffer's Senior Quantitative Analyst Rocky White, Oct. 21 marked just the fourth time that AAPL has collected a double-digit percentage gain during the same one-month stretch where MSFT has declined," according to Schaeffer's.
Apple is DIA's second-largest holding while Microsoft resides in the ninth spot in the ETF.
This article originally appeared on ETFTrends.com.
---
Content continues below advertisement